Tower Theatre
Introduction
Located at 802 S. Broadway, the Tower Theatre, is a historic movie theatre that opened in 1927. It was commissioned by H.L. Gumbiner, who built the Los Angeles Theatre in four years later, and it was designed by architect S. Charles Lee. The 900 seat theatre was designed in powerful Baroque Revival style with French, Spanish, Moorish, and Italian elements. The interior was designed after the Paris Opera House. The Tower was the first film house in Los Angeles to be wired for talking pictures and it was the first theatre in Los Angeles to be air conditioned. It opened in 1927 with the silent film The Gingham Girl starring Lois Wilson and George K. Arthur.
Images
A Black and white photo of the inside of the Theatre.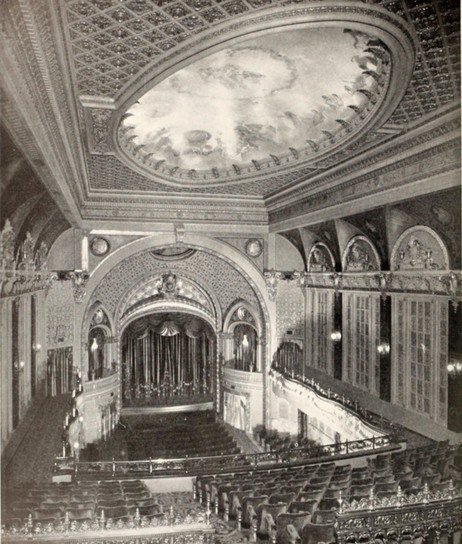 A shot of the exterior as it looks today.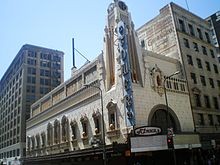 A historical Black and white photo of the Theatre.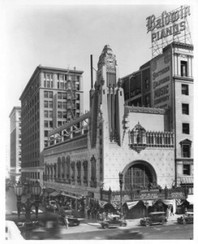 Backstory and Context
The Tower was independently operated for the first few decades of its existence. In the 1940s and early 1950s, it became known as the Newsreel, as it often ran newsreel films (prior to the popularity of television news coverage). The theatre underwent a major renovation in the early 1960s. According to limited historic documentation, the renovation included the repainting of the theatre's interior which covered up much of the original ornate decorative painting by A.T. Heinsbergen & Co. as well as permanently removing the famous canvas ceiling dome murals (which featured clouds, angels and classic nude ladies).
In 1988 the theatre closed its doors due to the decrease in downtown movie audiences and its main floor seats were removed in anticipation of the building being converted to an indoor swap meet. That plan never materialized and the location remained dormant until 1991 when Warner Brothers was persuaded to temporarily convert the venue to Miami's 'Empire Ballroom' as a key movie set for Mambo Kings (1992) which also marked the American movie debut of actor Antonio Banderas.

In 2001 with the decline of local location filming business due to strikes and runaway production, the Tower's use as a movie location was shuttered and the site became converted to a downtown store front church until mid-2003 when the church vacated and the theater was returned to its filming use. Aside from film location use, the Tower could possibly become a multi-purpose entertainment venue (nightclub, film screenings, auctions, weddings, corporate meetings, stand up comedy, jazz club, coffee house, etc.).
Sources
History of the Tower Theatre. Tower Theatre LA. Accessed July 02, 2017. http://www.towertheatrela.com/history.

Tower Theatre. Cinema Treasures. Accessed July 02, 2017. http://cinematreasures.org/theaters/3.

Tower Theatre. LA Conservancy. Accessed July 02, 2017. https://www.laconservancy.org/locations/tower-theatre.


Additional Information