Major Taylor Monument at the Worcester Public Library
Introduction
This monument honors Marshall Walter "Major" Taylor, one of the most prolific African American athletes who ruled the sport of cycling at the height of its popularity at the turn of the 19th century. Major Taylor was one of the first African American athletes to earn fame and fortune and at a time when cycling was one of the most popular sports, Taylor was the fastest bicycle rider in the world. Taylor broke many world records in cycling during a period when he and other African Americans faced extreme prejudice. The monument was dedicated in 2008 and is located on the South side of Worcester Public Library.
Images
The monument from the rear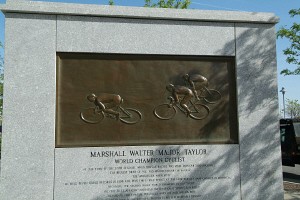 This statue was dedicated in 2008 thanks to donations from local organizations and people around the country.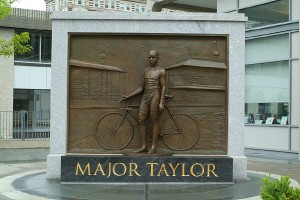 Backstory and Context
Marshall "Major" Taylor was born Nov. 26, 1878. His father was employed by a wealthy family who gifted Taylor with a bicycle. By 1892, Taylor was employed by a bicycle shop and won his first race. The following year, Taylor won a race in Indianapolis as was banned from competition with white riders as a result. However, the color line was never completely drawn and Taylor was able to race at various times owing to the fact that he had broken several world records. Taylor was quickly making a name for himself as one of the most prominent athletes of the era, but his success on the track were compounded by the color of his skin.
Although he held many records and became the world champion of the one-mile race, Taylor was not allowed to compete at several national championships held in the United States. White riders fought hard to keep Taylor from competing out of a growing national fear of being bested by an African American rider. However, in September of 1900 Taylor was allowed to compete at the US championship and became the American Sprint Champion. Taylor would continue to ride and win all over the world before retiring from racing in 1910. With the end of his racing career Taylor experienced a string of failures. Poor investments and declining health led to the end of his fortune and he died in relative obscurity in 1932.
Thanks to sports historians and interested residents of Worcester, the city that Taylor called home, many in the community supported the creation of an organization and a monument to honor the "Worcester Whirlwind." With the backing of many prominent athletes and area residents, funds were collected for the completion and dedication of this monument in 2008.
Sources
Biography. Major Taylor Association. Accessed July 12, 2017. http://www.majortaylorassociation.org/.

Kerber, Conrad. Kerber, Terry. Major Taylor: A Forgotten Legend. Edition Kindle Edition. New York, NY. Skyhorse Publishing, 2014.


Additional Information