Blue Rapids Kansas Baseball Historical Marker
Introduction
This historical marker located on the baseball field of Blue Rapids commemorates the only Major League Baseball game to occur in the area. After the town raised the asking price of $1000, the Chicago White Sox and New York Giants came to the small town on October 24, 1913. This was part of the team's barnstorming tour wherein the two teams played games in small towns throughout the United States following the regular season. The small town of Blue Rapids, Kansas was the only town in Kansas to put up the $1,000 to get the major league stars to play in their city. The White Sox won the game 8-5.
Images
Local paper advertising the game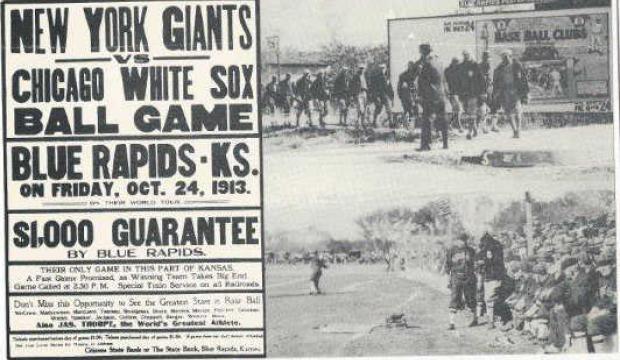 Picture of the historical marker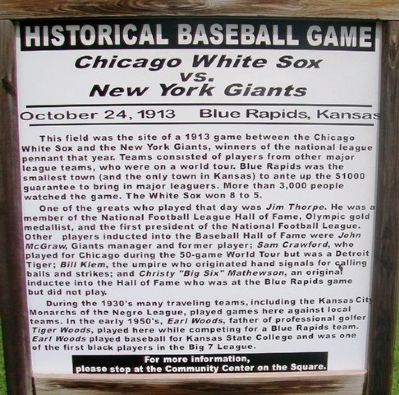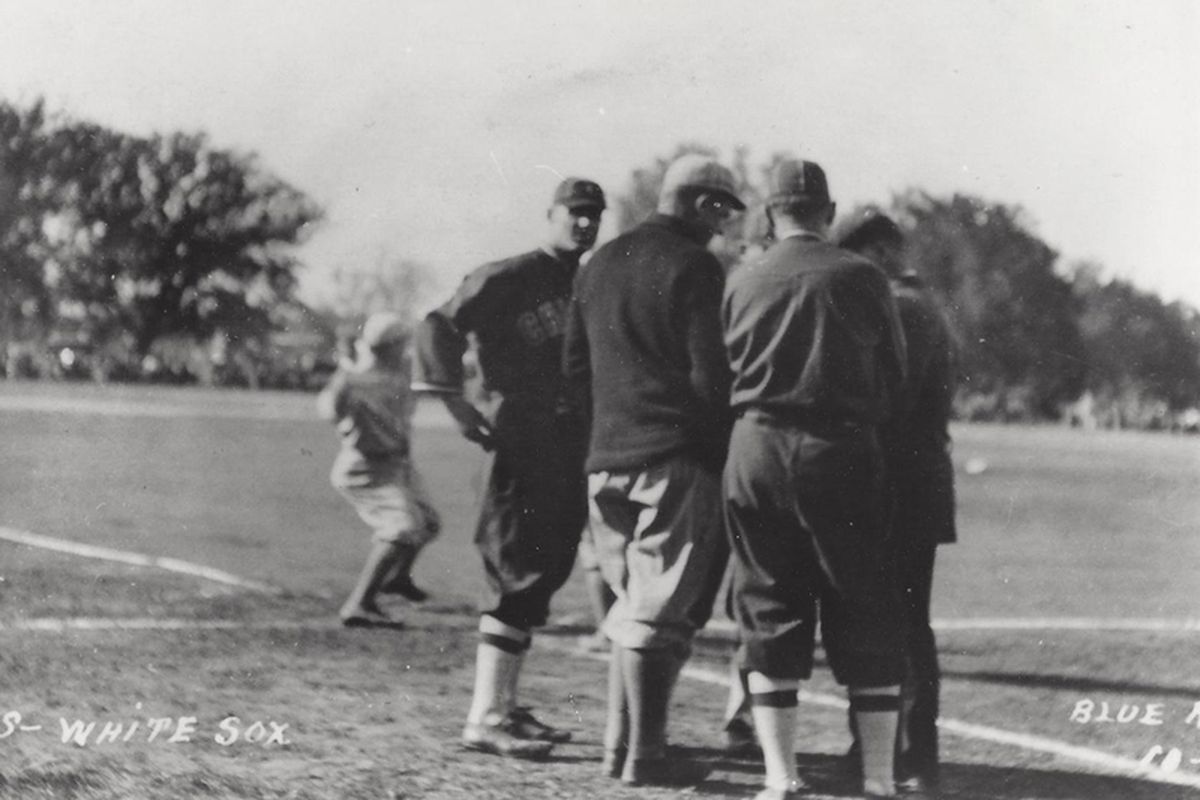 Backstory and Context
On October 24, 1913 the Chicago White Sox faced the New York Giants in an exhibition game that was part of a traveling world tour. Major leaguers from all over the league were part of these teams and they traveled across the United States playing to packed fields in big cities. Not only did these teams play in American cities, but they also went overseas to places like London and Shanghai. Tours like this were very successful for local economies and helped to spread the game of baseball. For some cities overseas, this would be a first exposure to the game of baseball.

It was easy for many cities across America to secure the $1,000 to have the teams play exhibitions for them. When the traveling teams took their tour through the Midwest and stopped in Kansas no one paid to watch the teams play. The small town of Blue Rapids, which had a population of almost 2,000 people paid the asking price. These teams were filled with stars of the day and even Jim Thorpe played on one of the teams. The asking price to enter the game was $1.00-$1.50 and the crowd reached estimates from 3,000-5,000 people, nearly double the town's population. The local economy saw a surge in profits from the game as families traveled to the town to take advantage of the opportunity to see two Major League teams as baseball was becoming America's pastime.

Sources
Fischer Jr., William. Historical Baseball Game Chicago White Sox vs. New York Giants. HMdb. November 22, 2014. Accessed July 2, 2017. https://www.hmdb.org/marker.asp?marker=79095. Historical marker site

Haskin, Kevin. Kevin Haskin: Among Kansas towns, only Blue Rapids had 'nerve'. The Topeka Capital Journal. September 28, 2013. Accessed July 2, 2017. http://cjonline.com/sports-opinion/2013-09-28/kevin-haskin-among-kansas-towns-only-blue-rapids-had-nerve#. Local paper commemorating anniversary of the game


Additional Information