Marlin Barnes Memorial on the University of Miami campus
Introduction
This memorial commemorates the life of Marlin Barnes, a student-athlete at the University of Miami who was was murdered on April 13, 1996. The Miami native was a community activist who established a non-profit organization call Right Track Program for troubled youth. The memorial is located on the far corner of the practice fields behind the Hecht Athletic Building at the University of Miami.
Images
University of Miami media guide photo of Marlin Barnes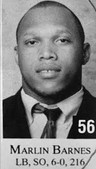 Backstory and Context
Barnes was murdered on April 13, 1996 along with Timwanika Lumpkins, a friend of Barnes. Both victims were viciously beaten. Barnes was killed by the attacker while Lumpkins was found in critical condition and later died at Jackson Memorial Hospital. They were both 22 years old at the time of their death.
Barnes and Lumpkins were found by UM teammate Earl Little. The brutal double-murder affected many students, coaches, and faculty members at the University of Miami. The president of the university considered cancelling activities but eventually settled on "moments of silence." A few weeks after the murders, law enforcement officials determined that Labrant Dennis, an ex-boyfriend of Lumpkins, had attacked the couple. Dennis was convicted of murder and sentenced to death for the crime.
Sources
Nobel, Charlie. NY Times. COLLEGE FOOTBALL;University of Miami Football Player and Woman Killed. April 16, 1996. Accessed July 01, 2017. http://www.nytimes.com/1996/04/14/sports/college-football-university-of-miami-football-player-and-wo....


Additional Information