Temple Sinai
Introduction
Located at 2808 Summit Street, Temple Sinai was founded in 1875 and is the oldest Jewish congregation in the East San Francisco Bay region. Originally a traditional congregation, the temple reformed its beliefs and practices under the leadership of Rabbi Marcus Friedlander at the turn of the 20th century. By 1914, it had become a Classical Reform congregation and this temple was built - a Beaux-Arts structure designed by G. Albert Lansburgh, which is the oldest synagogue building in Oakland.
Images
An outside shot of the Synagogue.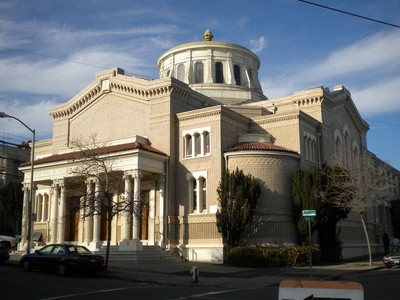 Inside the main chamber of the Synagogue.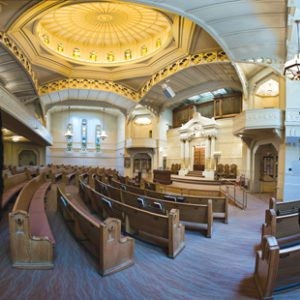 Backstory and Context
Founded in 1875 as the First Hebrew Congregation of Oakland, Temple Sinai grew out of Oakland's Hebrew Benevolent Society, which was organized in 1862 by eighteen merchants and shopkeepers from several foreign countries—predominantly Polish Jews. By 1876, the congregation had purchased land on the south side of 14th and Webster streets, but due to a severe economic downturn in California at the time, the congregation did not construct a building until 1878. The wooden structure, built with Moorish Revival elements and onion domes, was constructed at a cost of around $8,000 or $200,000 today.
In 1881 the new president, David Hirschberg, led a campaign to modernize the congregation and convinced a small majority to introduce a number of reforms such as the addition of a mixed choir of Christians and Jews, organ music, and the removal of the requirement for a minyan. That same year the congregation hired Oakland's first rabbi, Meyer Solomon Levy. Born in England in January 1852 he was the son of Rabbi Solomon Levy of Borough Synagogue in London.
In 1912 the congregation purchased its current site at 28th and Webster for $12,050 ($310,000 today). Groundbreaking took place on October 26, 1913, and the building was completed in 1914 at a cost of $100,000 ($2.4 million today). The new building was called "Temple Sinai", and thereafter the congregation itself became known as "Temple Sinai", although it retained the official name of "First Hebrew Congregation of Oakland".
Designed by noted American architect G. Albert Lansburgh, the Beaux-Arts structure had six tall stain glass windows, an elliptical dome, and an entranceway with Corinthian columnns supporting a Greco-Roman portico.
Sources
Corrigan, Patricia. "A place of tradition, innovation: Temple Sinai sanctuary marks 100 years in downtown Oakland." Jewish News. February 21, 2014. Accessed July 01, 2017. http://www.jweekly.com/2014/02/21/a-place-of-tradition-innovation-temple-sinai-sanctuary-marks-100-y....

Jones, Caroline. "Oakland's Temple Sinai celebrates big expansion." SF Gate. October 04, 2010. Accessed July 01, 2017. http://www.sfgate.com/bayarea/article/Oakland-s-Temple-Sinai-celebrates-big-expansion-3251039.php.

Temple Sinai. Local Wiki. Accessed July 01, 2017. https://localwiki.org/oakland/Temple_Sinai.

Additional Information