Saint Paul's Episcopal Church
Introduction
Saint Paul's parish was first organized in 1871 as a small congregation. By 1887 it was located on the corner of Harrison Street and 14th Street, with Rev. Hobart Chetwood as the rector. The present church began construction on St. Paul's Day, 1912. The Church went form strength to strength and in 1966 founded St. Paul's Episcopal School. On May 24, 1994, Saint Paul's Episcopal Church was designated as an Oakland Landmark.
Images
A shot of the church today.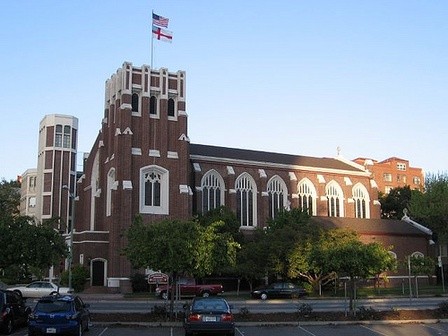 Backstory and Context
In the first few decades of the twentieth century, St. Paul's helped in the founding of the Church of Our Savior in Oakland, as well as the church of St John's in Montclair. In the 1960s, St Paul's was the official Diocesan sponsor of St. Paul's Towers, the retirement community and life-care facility.

The Church founded an Episcopal School in 1966 known as St Paul's School, which was reorganised and reestablished in its present form in 1975. The year of 1989 was a tough period for St. Paul's. In the summer of this year, the Rev. Donald W. Seaton was diagnosed with lung cancer. Months later, the entire Bay Area was rocked by the Loma Prieta earthquake which closed the Bay Bridge, flattened sections of freeway and devastated large portions of downtown Oakland.

The Church suffered only minor damage from the quake and its aftershocks but subsequently became subject to the City's newly formed requirements for seismic strengthening. Faced with the choice of retrofitting the Church or closing their doors, the church began a nine-year process of structurally improving the church. The retrofit was completed in 1998 at a cost of $1.8 million.

Sources
Local Wiki. Accessed July 01, 2017. https://localwiki.org/oakland/Saint_Paul%27s_Episcopal_Church.

History. St Paul's Oakland. Accessed July 01, 2017. http://www.stpaulsoakland.org/history.html.


Additional Information