Anshe Emeth Memorial Temple
Introduction
The Anshe Emeth congregation was founded as a group of five families meeting in a small New Brunswick shop front in October of 1859. It was the first Jewish congregation in Middlesex County and the fourth in New Jersey, and today is the only one of the state's first seven Jewish Congregations remaining in its founding city. The Anshe Emeth Memorial Temple, built in 1930, underwent a full restoration in 2006.
Images
Anshe Emeth Memorial Temple (image from NJ Jewish News)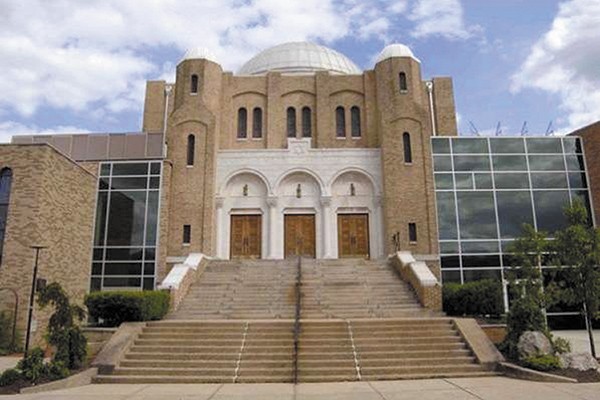 Temple interior (image from Anshe Emeth Memorial Temple)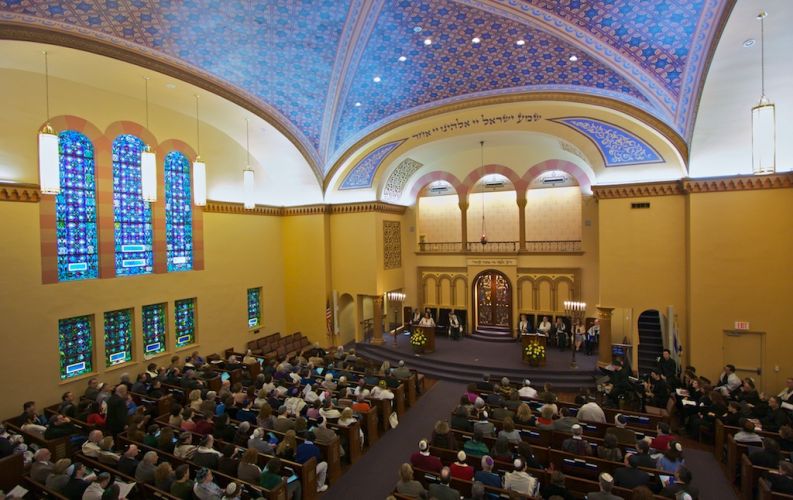 Backstory and Context
Founded in October of 1859, Anshe Emeth was the fourth Jewish congregation in the state of New Jersey and the first in Middlesex County. Around twenty-five Bohemian and German Jews had settled in New Brunswick in the 1850s, and five families comprised the original congregation, which met in a Peace Street storefront. A month after its founding, the congregation wrote a number of requests to European synagogues for a Torah, which they received in April of 1860 from Prague's Alte-Nue Synagogue.
By 1897, with Eastern European Jews arriving in the area, New Brunswick's Jewish population had risen to 280, and the town's first synagogue was constructed on Albany Street. Sources are conflicting regarding whether the congregation began as Orthodox or Reform, but agree that by 1890, Anshe Emeth was an American Reform temple. During the nineteenth century, Jews in New Brunswick were primarily shopkeepers and salesmen, with a few professionals such as public school teachers; after the turn of the century and around the 1930s, when the current temple was built, more worked as tradesmen and artisans.
The 1930 Moorish Revival style synagogue on Livingston Avenue, designed by local architect Alexander Merchant, was dedicated "in honor of the Jewish dead of New Brunswick," and is known as the Anshe Emeth Memorial Temple. During the Second World War, members rolled bandages for the wounded. The congregation and the temple have both expanded since its construction; in the 1970s, Anshe Emeth made a commitment to "participate in [New Brunswick's] growth and renaissance," [1] making it the only one of New Jersey's seven oldest Jewish congregations still in the city in which it was established. The Temple is also home to the archives of the Jewish Historical Society of Central Jersey and a preschool-through-12th grade religious school, and participates in a number of community and charitable activities including adult education, local school reading programs, an Interfaith Thanksgiving Service, and programs assisting the homeless, hospital staff and cancer patients.

Sources
1. Anshe Emeth Memorial Temple. Official website. Accessed June 30, 2017. http://www.aemt.net.
2. The Jewish Virtual Library. "New Brunswick." Accessed July 7, 2017. http://www.jewishvirtuallibrary.org/new-brunswick.
3. Morfe, Dan. "Anshe Emeth Memorial Temple." Historical Marker Database. April 18, 2016. Accessed July 7, 2017. https://www.hmdb.org/marker.asp?marker=94036.
4. Rubin, Debra. "Anshe Emeth Celebrates its Past and Future." New Jersey Jewish News. December 2, 2014. http://njjewishnews.com/article/25405/anshe-emeth-celebrates-its-past-and-future.
Additional Information