1934 Cheney Motor Company
Introduction
Loyd Holladay and Lyle Graham established the Cheney Motor Company in 1934. Holladay became the sole owner the following year, operating a Chrysler-Plymouth dealership, repair shop, and Texaco gas station until his retirement in 1964.
Images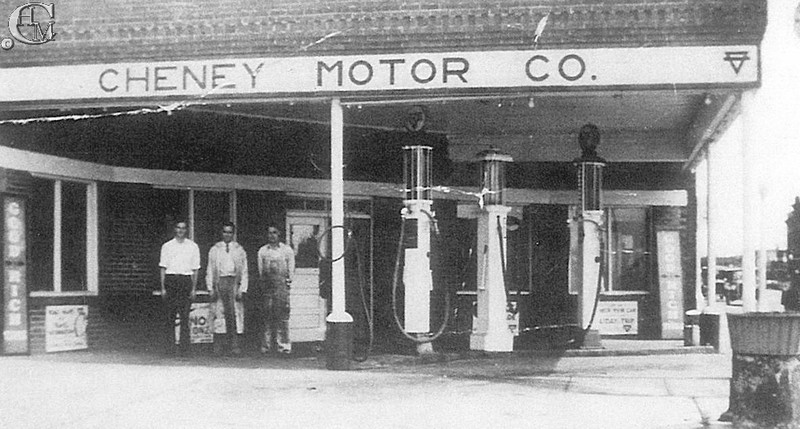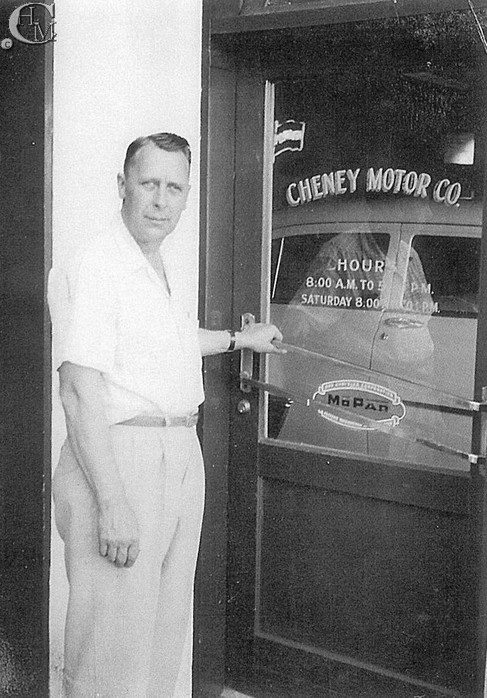 Looking east on 1st Street, about 1946. Cheney Motors on the left.

Backstory and Context
June 1, 1934, Holladay and a partner, Lyle Graham, took over the lease on Ed Zay's service station and repair shop at 308 First Street, on the corner of G Street. They named their new business the Cheney Motor company.
Lloyd Holladay was born on a Reardan wheat ranch, and after high school apprenticed as an auto mechanic at Colville Garage in Reardan, before coming to Cheney in 1929. He worked as a mechanic for Charles A. Ratcliffe company until August 1932, when he purchased a service station and repair shop on the corner of Second and F streets.
Holladay bought out Graham's interest in Cheney Motors, and on June 1, 1935, one year after starting the company, Lloyd Holladay became the dealer for Chrysler-Plymouth automobiles. The business prospered, so that in 1940 Lloyd bought out his lease, and completely remodeled the business into a modern facility with a spacious showroom for new cars, a larger garage facility, and a modern Texaco gas station. He held a grand re-opening in January 1941.
His business continued to grow, and in 1948, Holladay purchased the adjoining lots and tore down two pioneer era buildings; one was the old GAR Hall and the other a repair shop. In their place, he created a used car lot.
Lloyd Holladay continued in business with the Cheney Motor Company at the same location until 1964, when he sold the stock and equipment to Ivan Kerr and Millard Hale, leasing them the lot and building. Both men were former Ratcliffe Ford employees. Cheney Motor Company closed in 1969. The dealership was torn down and replaced with a building that served as a bank until 2017.
Sources
Cheney Free Press 1932, 1934, 1940, 1957
Proctor, Ellen. His Honor, The Mayor. 1993, 2014.


Additional Information