Mountain Winery, Saratoga (formerly Paul Masson Winery)
Introduction
Formerly known as the Paul Masson Winery, the Mountain Winery in Saratoga, California is now a premier outdoor concert venue and has recently begun growing grapes once again. Masson, a French immigrant, purchased the property in 1901 and built a home on the hillside he called La Chateau in 1905. The winery was partially destroyed twice, once by earthquake and the other by fire. It was rebuilt on both occasions. It stopped making wine in the 1950s and began its second life as a live show venue in 1958 and has continued that tradition ever since. It has been listed on the National Register of Historic Places since 1983 and was designated a California Historic Landmark in 1960.
Images
The portal from the former St. Patrick's Cathedral provides the perfect backdrop for the winery's outdoor amphitheater.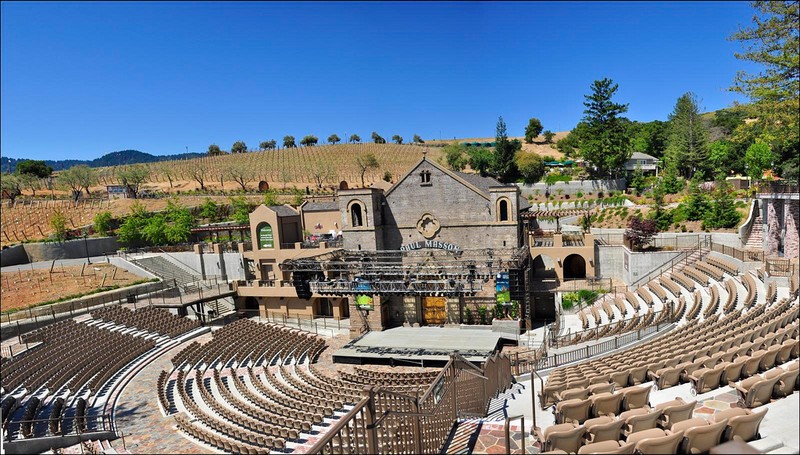 An overhead shot of the concert venue, to include the rebuilt winery building.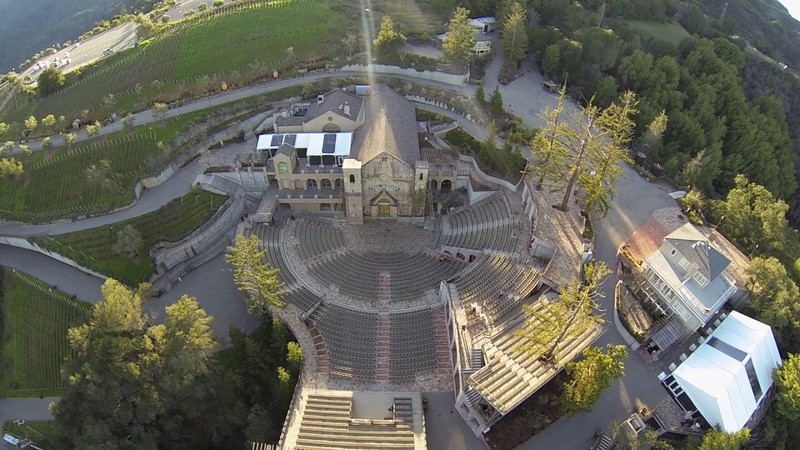 This stone patio provides stunning views of the Santa Clara Valley.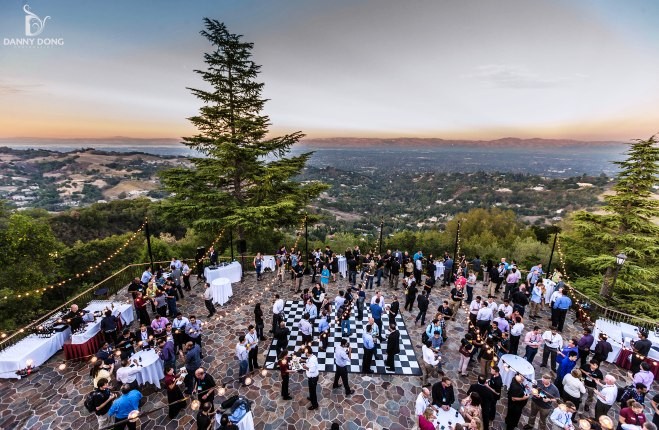 The same patio prior to hosting a wedding reception.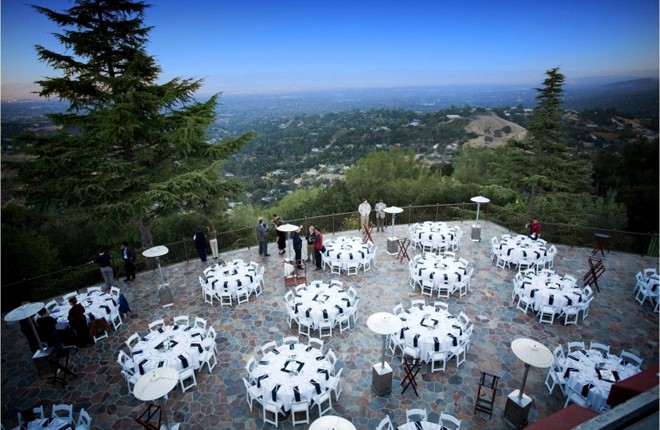 Backstory and Context
The vineyard that would "sell no wine before its time" was founded by Paul Masson at the beginning of the 20th century. Masson arrived in California in 1878 and quickly teamed with fellow French immigrant Charles Lafranc to expand viticulture into the Santa Clara Valley. Charles died in 1887 and Masson briefly partnered with his son, Henry, until he purchased his shares in the Almaden Vineyards in 1892. Masson also married the daughter of Charles Lafranc, Louise. At Almaden, Masson began making a sparkling wine he referred to as Champagne, after the region of France famous for making sparkling wines. He soon became known as the "Champagne king of California."
In 1901, Masson moved his wine making operations to Saratoga when he purchased land there and built his La Cresta winery. His famous home, La Chateau, followed four years later. A year after the completion of La Chateau, the winery was partially destroyed by the infamous San Francisco Earthquake of 1906. When it was rebuilt, Masson acquired and incorporated the famous portal from the old St. Patrick's Cathedral in San Jose. The massive portal now serves as the backdrop to the Winery's outdoor amphitheater.
Masson hosted numerous parties at his winery and Chateau and entertained the likes of Charlie Chaplin, John Steinbeck (Grapes of Wrath…get it?), and Herbert Hoover. His wife Louise, a prohibitionist, did not attend these parties hosted by her husband. The winery was more than profitable until Louise and her teetotalling friends were successful and Prohibition became the law of the land in 1920. Masson managed to stay afloat by selling grapes to wholesalers and by obtaining a special governmental dispensation to produce wine for sacramental purposes. However, by the time Prohibition was repealed in 1933, Masson's fortune was all but gone and he sold the vineyard and winery to Martin Ray in 1936, but Ray kept the Masson name.
The winery had to be partially rebuilt after a 1941 fire and was soon thereafter sold to The Seagram Company. It stopped making wine in 1952 and then began its second life as a concert venue in 1958. It has since hosted numerous musical artists to include Ella Fitzgerald, Ray Charles, The Beach Boys, Carlos Santana, John Mellencamp and Cheryl Crow. The vineyard was eventually restored and began growing grapes again in 2004. It was then purchased by Wine Group LLC in 2008 and the Masson name was dropped. Since that time, it has been known simply as the Mountain Winery and, in addition to concerts, it hosts weddings, corporate meetings, dinner parties and company retreats.
Sources
"Winery History." Mountain Winery. Accessed June 27, 2017. http://www.mountainwinery.com/about-the-mountain-winery/the-mountain-winery-history
"Paul Masson Mountain Winery." National Park Service. Accessed June 27, 2017. https://www.nps.gov/nr/travel/santaclara/mas.htm
Daniel, Laurie. "A new life for historic Mountain Winery." The Mercury News. October 28, 2008. Accessed June 27, 2017. http://www.mercurynews.com/2008/10/28/a-new-life-for-historic-mountain-winery/
Iknoian, Therese. "Masson cellars good to last pop." Chicago Tribune. February 18, 1990. Accessed June 27, 2017. http://articles.chicagotribune.com/1990-02-18/business/9001140776_1_taylor-california-cellars-mounta...
Additional Information