Charles W. Heywood House, Berkeley
Introduction
The home at 1808 Fifth Street is not only one of the finest examples of an Italianate Victorian in Berkeley, it is also the former home of one of Berkeley's youngest mayors, Charles Heywood. Heywood was also the member of a prominent Berkeley family. The home is listed on the National Register for Historic Places.
Images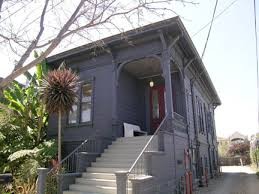 Backstory and Context
The Heywood family history goes back practically to the beginning of Berkeley. Zimri Brewer Heywood was a pioneer businessman in Berkeley, building the city's first lumberyard and operating the city's first wharf along with Captain James Jacobs.

Charles Heywood was the third son of Zimri, and was a prominent resident of Berkeley in his own right. The younger Heywood eventually became president of the Berkeley Lumber Company, which was one of the Bay Area's most successful businesses. Noting Berkeley's rapid development in the early twentieth century, Heywood encouraged the city to develop sound finances and improved infrastructure. He ran for mayor in 1913 and was elected, the youngest person to do so at that time.

The home on Fifth Street was built for Heywood in 1878 on land that belonged to Heywood & Jacobs, and which was largely wide open space at that time. Heywood, his wife Mary, and their adopted daughter lived in the home for a number of years, although the marriage eventually failed.

For a number of years, the Heywood home was lent to numerous tenants, and changed owners several times. By the 1970s, the home was largely in a state of disrepair. In the early 2000s, the home was rehabilitated and is now considered one of the city's finest examples of Victorian Italianate architecture. It is a City of Berkeley Landmark and is listed on the National Register of Historic Places.
Sources
Yoon-Hendricks, Alexandra. The Forgotten History of Charles W. Heywood, Berkeley's Youngest Mayor. The Daily Californian. November 16, 2016. Accessed June 26, 2017. http://www.dailycal.org/2016/11/14/forgotten-history-charles-d-heywood-berkeleys-youngest-mayor/.


Additional Information