O. Henry Museum
Introduction
This museum honors the life and literary legacy of William Sydney Porter (1862-1910), otherwise known as "O. Henry," a name he made up to mask his identity while he was serving time in prison for embezzlement. Porter earned wide acclaim for the short stories he wrote in prison including "The Gift of the Magi," "The Ransom of Red Chief" and "The Cop and the Anthem." The museum collects and preserves items related to Porter's life. The house itself was built in 1886 and Porter and his family lived here from 1893-1895. It was listed on the National Register of Historic Places in 1973.
Images
The O. Henry Museum was once the home of famous writer, William Sydney Porter, who came up with the alias while in prison.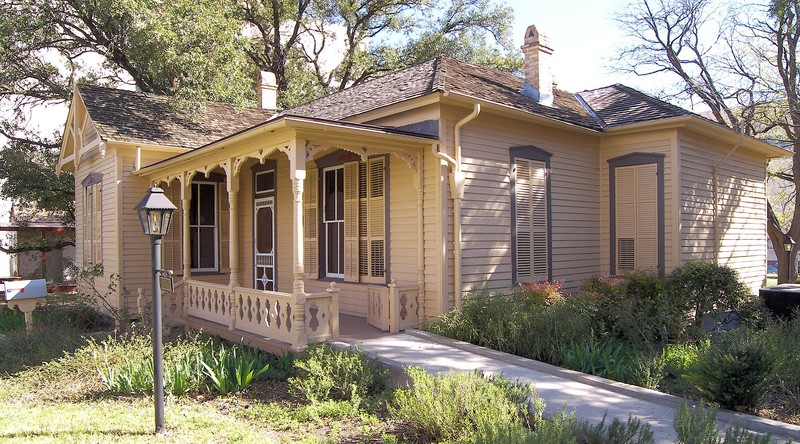 Known for his dry humor and twist endings, O. Henry's short stories were wildly popular in the early 1900s. Image obtained from americanliterature.com.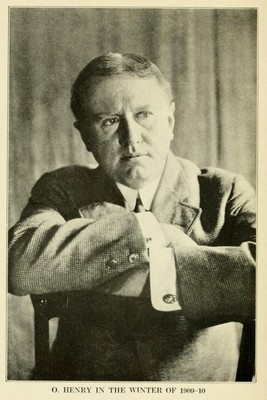 The O. Henry Museum has been restored and contains period furniture as well as some of O. Henry's personal belongings. Image obtained from the City of Austin.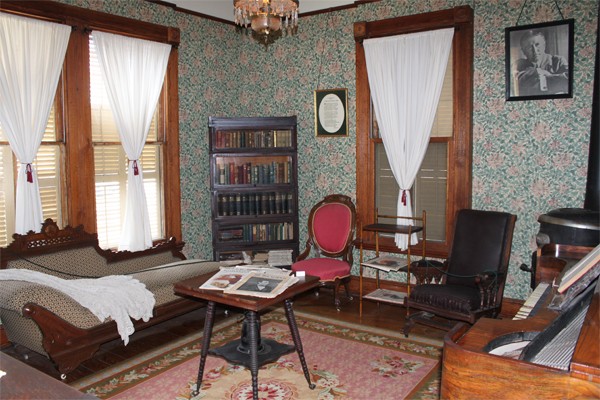 The O. Henry Museum was added to the National Register of Historic Places in 1973. Image obtained from the Texas State Historical Association.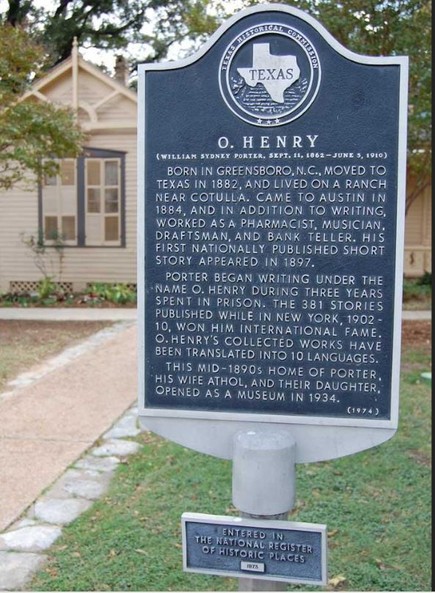 Backstory and Context
Author O. Henry was born William Sydney Porter on September 11, 1862, in Greensboro, North Carolina. In 1882, Porter moved to Austin, Texas, where he worked a variety of different jobs, including on a sheep ranch and as a teller for the First National Bank in Austin. He also married Athol Estes in 1887. In 1894 Porter was fired from his job at the First National Bank of Austin over accusations that he committed embezzlement. The following year he moved to Houston, where he started a short-lived humor magazine, The Rolling Stone, before becoming a popular columnnist for the Houston Post. In 1896, federal auditors, after investigating the Austin bank, indicted Porter on the charges of embezzlement. Porter moved his wife and young daughter back to Austin before he himself fled to Honduras. In 1897, Porter returned to be with his wife, who was dying of tuberculosis, and turned himself in to the authorities.
Porter was sentenced to five years in prison but was released after three years for good behavior in 1901. During his time in incarceration he wrote and published a flurry of short stories so he could financially support his daughter Margaret. It was at this time that he adopted the pen name O. Henry. By the time Porter left prison, he had become famous as a short story writer. In 1902 he moved to New York, where he continued to write. His short stories were published in magazines, newspapers, and compiled into books. Porter's works were known particularly for their dry humor and surprise endings. Most of his stories took place in New York, the southwestern United States, and South America. His most famous works included "The Ransom of Red Chief," "The Cop and the Anthem," and "The Gift of the Magi." Despite his literary success, Porter became impoverished due to alcoholism, and he died penniless in 1910.
The home occupied by the O. Henry Museum in Austin, Texas was constructed in 1886. The Eastlake Style house served as a rental property and was originally located at 308 East 4th Street. Porter and his family rented the home between 1893 and 1895, before they moved to Houston. In 1930 the house was planned on being demolished to make room for a new warehouse. In 1934, activists succeeded in saving the home and having it moved to its current location at 409 East 5th Street, where it was restored and converted into a museum honoring Porter. The museum today contains many period items, including some of Porter's personal belongings. It offers guided tours, hosts several literary groups, and is the site of the annual O. Henry Pun-Off, a spoken word competition started in 1978. In 1973, the house was listed on the National Register of Historic Places, and a plaque was installed commemorating O. Henry.
Sources
"Biography." City of Austin. Accessed June 26, 2017. http://www.austintexas.gov/sites/default/files/files/Parks/OHenry/ohenrybiographyforweb.pdf.
"O. Henry." Encyclopedia Britannica. Accessed July 6, 2017. https://www.britannica.com/biography/O-Henry.

"O. Henry Museum. " City of Austin. Accessed June 26, 2017. http://www.austintexas.gov/department/o-henry-museum.
Photo 1: Larry D. Moore, via Wikimedia Commons
Photo 2: https://assets.americanliterature.com/al/images/author/o-henry-2.jpg
Photo 3: http://www.austintexas.gov/sites/default/files/images/Parks/images/O.henry_c.jpg
Photo 4: https://tshaonline.org/sites/default/files/images/handbook/OO/ohenry_house_landmark.jpg
Additional Information