Oakland City Hall
Introduction
Constructed in 1914, the Oakland City Hall is the seat of government for the city of Oakland, California. Standing at the height of 320 feet (98 m), it was the first high-rise government building in the United States. At the time it was built, it was also the tallest building west of the Mississippi River. This new Beaux Arts building replaced the previous City Hall building which formerly stood on the same plot. The building was designed by New York-based architecture firm Palmer & Hornbostel in 1910, after winning the $5,000 grand prize in a nationwide design competition over 27 other competitors.
Images
A shot of the City Hall as it stands today.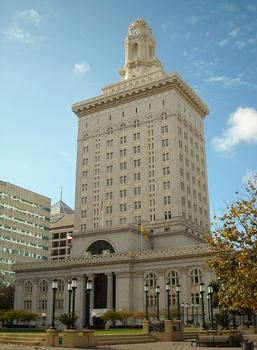 A shot of the City Hall from 1917.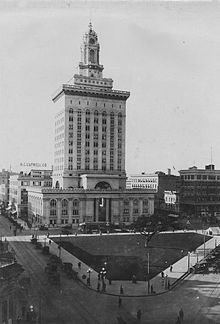 Backstory and Context
The building design consists of three tiers in a "wedding cake" style. The bottom tier, which acts as the building's foundation, houses the Mayor's office, the city council chamber, hearing rooms, and a police station with a firing range in the basement. The thinner second tier is a ten-story office tower and the top floor of this section (the 12th floor) houses a 36-cell jail with an outdoor yard that has been unused since the 1960s. Above the second tier is the two-story podium with a clock tower on top.
The exterior of the building is made of white granite and terra cotta, while the inside of the building is white and Black marble. The building was nicknamed "Mayor Mott's wedding cake" after former Oakland Mayor Frank Kanning Mott, one of the key figures in securing the new City Hall Building. On October 13, 1911, President William Howard Taft laid the cornerstone for the new city hall and it opened to the public some two and a half years later on March 12, 1914.
In 1989, following the Loma Prieta Earthquake, City Hall suffered large amounts of structural damage and had to be closed down. Rather than tearing the building down and starting again, it was decided that the old building should be retrofitted to protect it from seismic activity. Extra steel beams and concrete was used to reinforce the building's structure such that the building can now move up to 20 inches either side during an earthquake.The repair project cost a staggering $85 million.
Sources
Oakland City Hall. Local Wiki. Accessed June 26, 2017. https://localwiki.org/oakland/Oakland_City_Hall.

Allen, Annalee. Allen: Oakland City Hall marks 100 years. East Bay Times. Accessed June 26, 2017. http://www.eastbaytimes.com/2014/01/03/allen-oakland-city-hall-marks-100-years/.

Discover Oakland's Historic City Hall. Oakland Net. Accessed June 26, 2017. http://www2.oaklandnet.com/oakca1/groups/ceda/documents/marketingmaterial/oak046946.pdf.


Additional Information