Scholz Beer Garten
Introduction
The Scholz Beer Garten is one of Austin's most popular and best known cultural institutions. Established in 1866 and listed on the National Register of Historic Places, Scholz Beer Garten is the oldest continuously operating business in Texas and oldest operating beer garden in the country. German immigrant and Confederate Civil War veteran August Scholz founded it after the war to have a place for fellow Germans to socialize and entertain themselves with music, especially singing. Today, Scholz continues to be a popular place for people of all walks of life, especially University of Austin students, to socialize and watch sports games.
Images
The Scholz Beer Garten has been an Austin cultural institution since 1866, making it the oldest operating business in the state.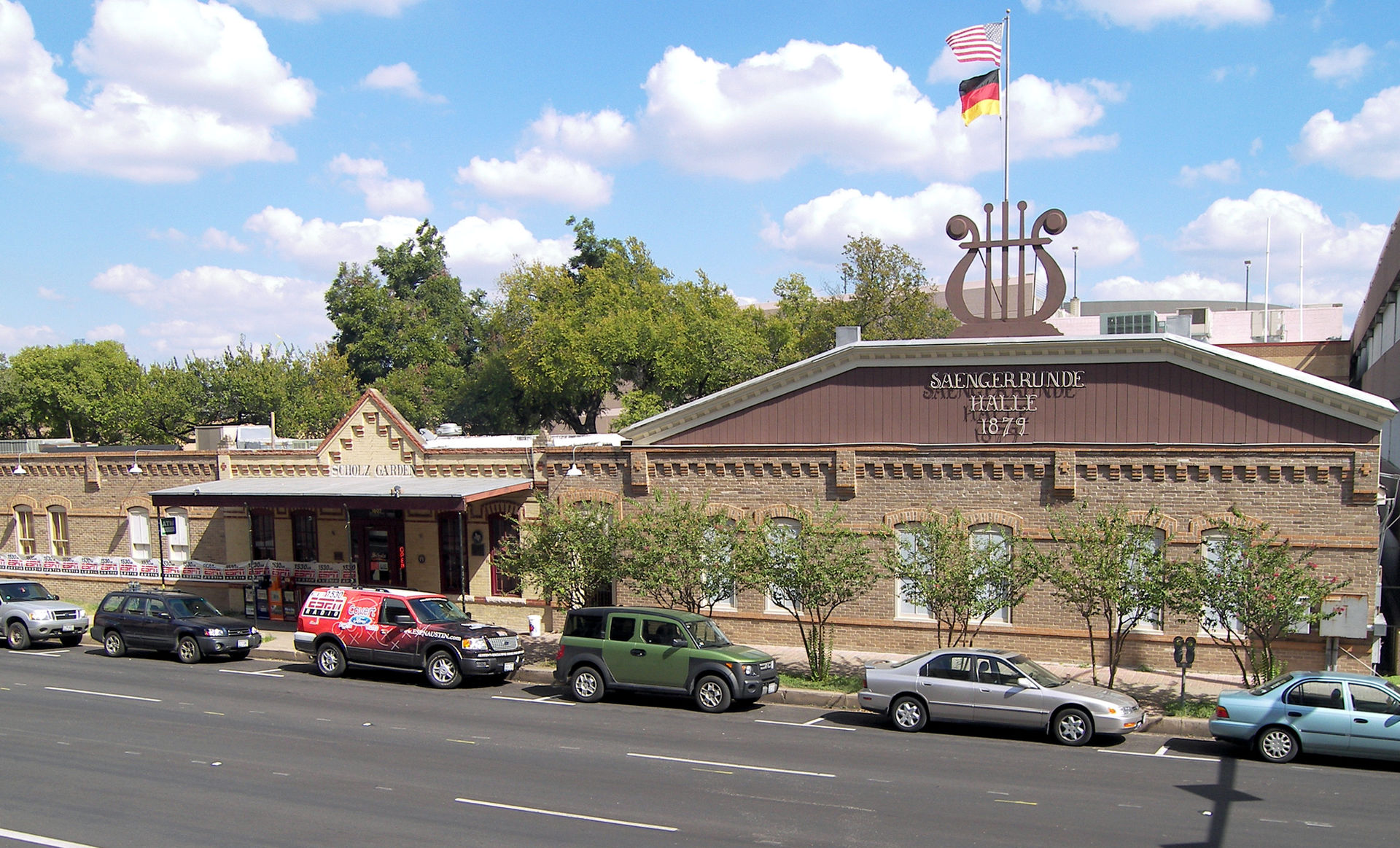 Early undated image of the Scholz Beer Garten. Image obtained from the Texas State Historical Association.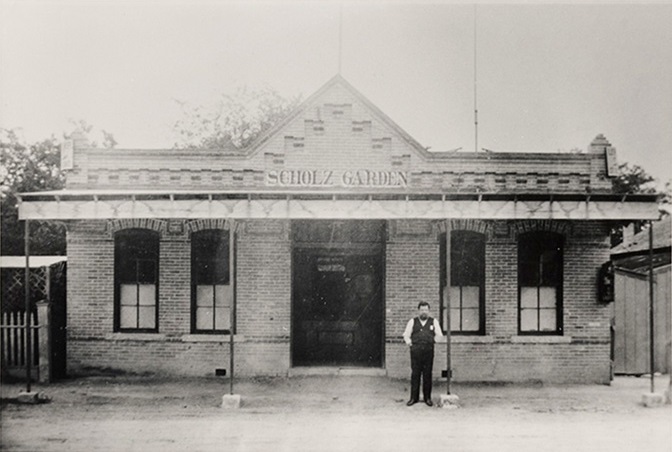 Backstory and Context
The young state of Texas experienced a large wave of German immigration during much of the nineteenth century. Many of these immigrants formed their own communities, preserving their culture and language. In 1860, German immigrant August Scholz opened a boarding house in Austin, in an area halfway between the state capitol and the University of Texas. Following the Civil War and service in the Confederate army, Scholz converted his business into a tavern and biergarten in 1866. It soon became popular with the German immigrant community as a place to socialize, drink beer, and listen to music. The biergarten was one of several in the city at the time, and is the only one to have survived into modernity. The building has changed very little in its over 150 years of existence.
August Scholz died in 1891, and soon afterwards his family sold the biergarten to the Lemp Brewery. In 1908, Scholz Beer Garten was purchased by the Austin Saengerrunde, a German singing society. The Saengerrunde was informally created in 1852 and officially established in 1879 to promote German culture through the use of singing. It remains the oldest ethnic organization in Austin. The society has leased the biergarten to various restaurant owners, and also uses the facilities for meetings, recitals, and recreational events. The Saengerrunde also installed a six-lane bowling alley, now the oldest bowling alley in Austin.
For much of its history, the Scholz Beer Garten has been popular among both Texas state legislators and students from the University of Texas due to its close proximity to both. Many state politicians have frequented the restaurant to socialize or negotiate deals. One popular rumor contends that more laws have been passed at the Scholz Beer Garten than in the state capitol. Many University of Texas fans also visit the biergarten to watch football games, with the restaurant reportedly going through hundreds of cases and kegs of beer during home games. Today, in addition to alcohol, the Scholz Beer Garten offers a variety of ethnic German dishes as well as space to rent for recreational events.
Sources
Beck, Allison. "Scholz Garten." National Park Service - National Register of Historic Places Nomination Form. July 27, 1979. https://atlas.thc.state.tx.us/NR/pdfs/79003015/79003015.pdf.
Ivins, Molly. "Colorful Texas Beer Hall Makes History, Officially." The New York Times. August 17, 1979. Accessed July 18, 2017. https://www.nytimes.com/1979/08/17/archives/colorful-texas-beer-hall-makes-history-officially-scholars-and.html.
Lanier, Clint and Derek Hembree. "Time for a Roadtrip! The Oldest Beer Garden in America." Huffington Post. June 13, 2014. Accessed July 18, 2017. https://www.huffingtonpost.com/clint-lanier-and-derek-hembree/time-for-a-roadtrip-the-o_b_5435086.html.
"The Austin Saengerrunde Story." Austin Saengerrunde. Accessed July 18, 2017. http://www.saengerrunde.org/our_story.
Wood, Virginia B. "A Joyful Noise: How Saengerrunde Hall learned to sing a new tune." The Austin Chronicle. September 9, 2014. Accessed July 18, 2017. https://www.austinchronicle.com/food/2014-09-19/a-joyful-noise/.
Picture 1: Larry D. Moore, via Wikimedia Commons
Picture 2: https://tshaonline.org/sites/default/files/images/handbook/SS/scholz-garden.jpg
Additional Information