Genaro P. and Carolina Briones House
Introduction
This unusual house is truly unique in Austin. It was built by Genaro P. Briones who used his skills as a bricklayer and plasterer to create the home out of reinforced concrete, on which he included tinted concrete ornamentation such as molded stones, flowers, stars, and trees. He learned of this style from Dionicio Rodgriguez, an artist from San Antonio. The house remains Briones' best and most preserved work and is great example of Texas folk architecture. It took him fourteen years to build it, from 1947-1953. He lived on the first floor (it is a duplex) with his wife until he died in 1979. It remains a private residence today but can be easily seen from the street. It is located in a heavily Hispanic neighborhood and locals call it the "Casa de Sueños" (the house of dreams).
Images
The Genaro P. and Carolina Briones House is one of the more unique homes in Austin, as it is an excellent example of Texas folk architecture.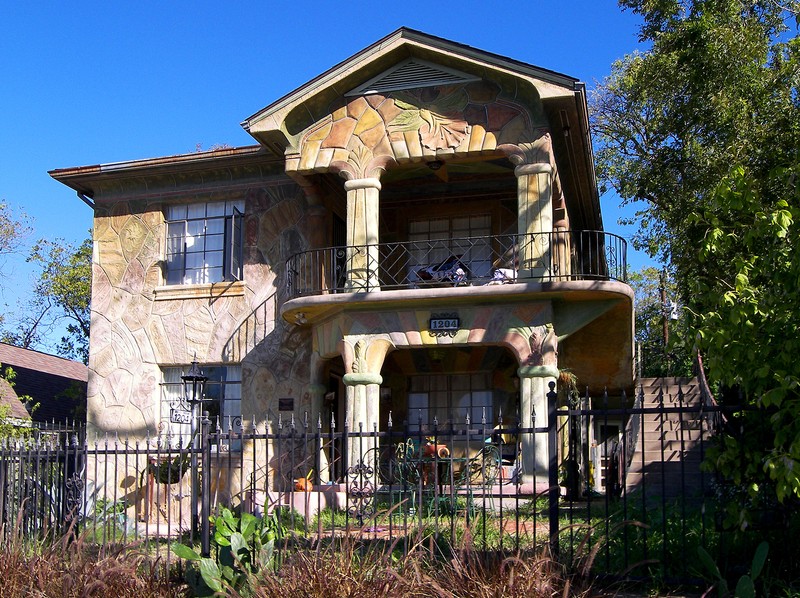 Backstory and Context
The style of architecture originated in Mexico and was popular in some parts of the country in the 1920s. Briones continued to make changes to the house for the rest of his life, including a large addition in the 1960s.
Sources
"Genaro P. and Carolina Briones House." National Park Service. Accessed June 26, 2017. https://www.nps.gov/nr/feature/hispanic/2001/briones.htm.
Photo:
Larry D. Moore, via Wikipedia Commons