Golden Sheaf Bakery
Introduction
Now listed on the National Register of Historic Places, the Golden Sheaf Bakery was once one of the most successful bakeries in the Bay Area. It was founded by English immigrant Jonathan Garrard Wright, whose family operated the facility until 1907.
Images
Facade of the Golden Sheaf Bakery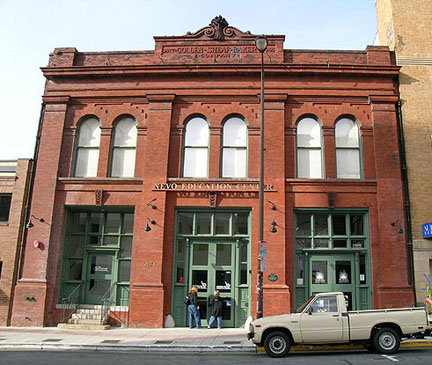 The original Golden Sheaf Bakery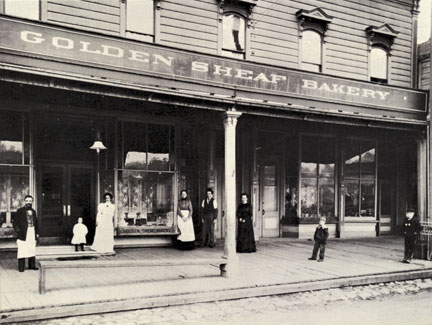 Backstory and Context
English immigrant Jonathan Garrard Wright founded the Golden Sheaf Bakery in 1877, just north of the present location of the Kress Building. The original bakery was a two-story wooden structure, with the bakery on the ground floor and residences on the second floor where the owners, their bakers, and boarder lived.

Golden Sheaf Bakery became a very successful bakery, producing numerous varieties of breads and other baked goods. The bakery also ran a catering service and operated a fleet of forty horse-drawn trucks for deliveries.

In 1907, the Wright family sold the business to a syndicate and the bakery was moved to the Addison Street location.The building that currently stands at 2071 Addison is merely one remnant of the Golden Sheaf Bakery; other parts of the facility have been demolished over the years. The remaining building has served numerous functions over the years, and is currently home to the Nevo Educational Center of the Berkeley Repertory Theater. It was added to the National Register of Historic Places in 1977.
Sources
Cerny, Susan. Golden Sheaf Bakery. berkeleyheritage.com. October 27, 2001. Accessed June 25, 2017. http://berkeleyheritage.com/berkeley_landmarks/golden_sheaf.html.