Leimert Bridge
Introduction
The Leimert Bridge stretches over Sausal Creek and Dimond Canyon, connecting Oakmore Highlands to Park Boulevard. It was built in 1926 by Walter H. Leimert and his brother Harry Leimert, who wanted to develop Oakmore Highlands. It was designed by engineer George Posey, who also designed the tunnel to Alameda that bears his name.
Images
An advertisement drawing of the bridge.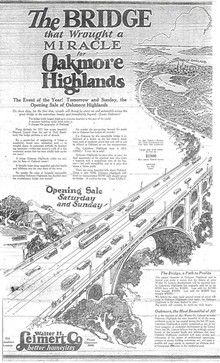 Backstory and Context
Gateway to the Oakmore District
In 1926, developer Walter H. Leimert completed the largest structure in this new Oakmore Highlands subdivision. When finished, the Leimert Bridge, named for the boulevard it supports as wells as the developer who commissioned it was the largest single span bridge of its time. The elegantly arched structure connected Park Boulevard and Piedmont to the nearby hills, which had been isolated by Dimond Canyon on the northwest and the bed of the former Palo Seco Creek (now the Warren Freeway – Highway 13) to the east. The new, reliable transportation route into these hills transformed them from bucolic scenery into a desirable and convenient location to live.
The Leimert Company promotional materials of the era referred to their new concrete structure as "The Bridge that Wrought a Miracle for Oakmore Highlands." From its intersection at Park Boulevard, the bridge spanned over Sausal Creek and the 325 ft Dimond Canyon. After completion it brought commuter street cars (the Park Boulevard #18 Car Line spur off the Key System) as well as automobiles into the heart of the new business center and residential development. The streetcar turnaround was located at the five way intersection as the east end of the business district.
Originally christened the 'Sausal Creek Arch Bridge,' it is now typically known by locals as the 'Leimert Bridge.' The structure was designed by engineer George A. Posey, who was also the Alameda County surveyor and the engineer of the Posey Tube (tunnel) connecting downtown Oakland to the island city of Alameda. The bridge is a single span, reinforced concrete structure composted of side by side arches which cross the canyon in one elegant parabolic leap. It has stood the test of time both in its structural performance and its graceful appearance. The bridge is the literal and figurative gateway to the Oakmore District of Oakland.
The bridge is 357 feet long and 117 feet high. Originally it had Key System trains (the #18) running over it as well as automobiles and pedestrians. In 1947, the poles supporting the wires for the Key System were converted to street lights and power poles.
Without the bridge, the Oakmore Highlands neighborhood would have taken much longer to develop.
On September 30, 1980 the Leimert Bridge was designated Oakland Landmark #40, under Zoning Case #LM 80-276.