Shaquille O'Neal Bronze Statue
Introduction
In 2017, one of the top centers of all time was immortalized with this bronze statue outside of the arena he once played in. Shaquille O'Neal was honored with a statue of his signature two-handed slam. This statue celebrates not only the basketball talent and success O'Neal provided while in purple and gold but, also the personality he brought to the city of Los Angeles. He took the city over by storm winning MVP in 2000 and three straight championships from 2000 to 2002.
Images
Statue of Shaquille O'Neal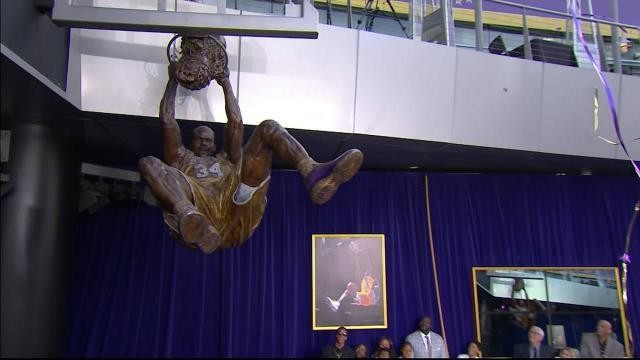 Shaquille O'Neal preforming one of his signature two handed slams.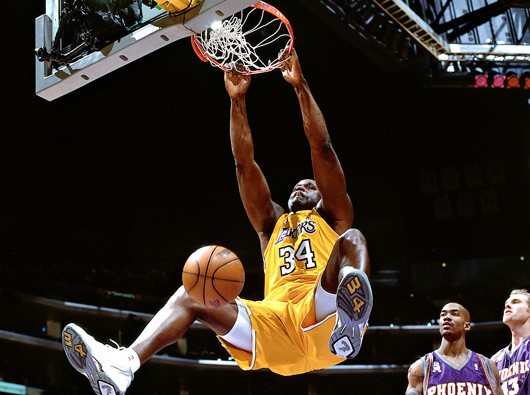 Backstory and Context
Shaquille O'Neal was born in Newark, New Jersey on March 6, 1972. After graduating from Cole High School in San Antonio, Texas, he decided to play for Louisiana State University. The freshman center wasted no time making an impact and at 7 feet tall and weighing 315 pounds, he dominated the many of his fellow players. O'Neal was not only the "College Player of the Year" in (1991) but, also a unanimous first team All-American (1991,1992). He dropped out of college following his junior year to pursue a professional career.
He was then drafted by the Orlando Magic within his first week in the league he was the "Player of the Week" something that had not been done before. Although Shaq played for many teams in his nineteen-year career the most career defining moment was him signing with the Lakers in 1996. This contract was the largest in NBA history 120 million over seven years. Not only did he sign with the Lakers in 1996 he also helped the "Dream team" when gold at the Olympics. In his time with the Lakers, his talent led to not only the 2000 MVP but, also three straight NBA championships. He was also known for his infamous feud with Kobe Bryant that eventually led to O'Neal being traded to the Heat.
After the trade to the Heat two years later he added his fourth and final championship. Shaquille bounced around to the Suns, Cavaliers, and Celtics. After his last season with the Celtics, he retired and became an analyst on the show "Inside the NBA." He was later inducted into the Basketball Hall of Fame.
Sources
"Shaquille O'Neal." Biography.com. May 25, 2017. Accessed June 24, 2017. https://www.biography.com/people/shaquille-oneal-9542515.

Harris, Beth. "Los Angeles Lakers honor Shaq with high-flying statue outside arena." NBA.com. Accessed June 24, 2017. http://www.nba.com/article/2017/03/24/los-angeles-lakers-honor-shaq-high-flying-statue-outside-arena.

Additional Information