Berkeley Municipal Incinerator
Introduction
While it may strike modern residents and visitors as an unusual choice for an official city landmark, the Berkeley Municipal Incinerator has a long and significant history in the city. The incinerator was built in 1914 to more effectively deal with the refuse of a growing city. The building is listed as a Berkeley City Landmark.
Images
The Municipal Incinerator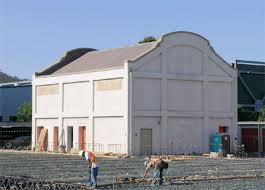 Backstory and Context
As Berkeley began to grow following the 1906 earthquake, so did the city's need for an effective and safe way to dispose of its trash. For most of the nineteenth and early twentieth centuries, the city disposed of its trash by dumping it into the ocean. But Berkeley's growing population meant that a better option was needed.

A municipal incinerator was built in 1909, but after one burn it was discovered that the facility did not operate properly and it was shut down. A new facility opened in 1914 on Second Avenue. The new building was based on an English model and included 150 feet tall smoke stack, which no longer exists. The building has a surprisingly stylized facade, given its mundane purpose, with a curved, Mission Revival-style roof.

The incinerator closed in 1930, and the city increasingly used the marsh near the building as a landfill. From 1936 to 1980, the building served as a slaughterhouse for the Lewis and McDermott meat packing plant. The building is now a City of Berkeley Landmark.
Sources
Cerny, Susan. berkeleyheritage.com. Municipal Incinerator. May 11, 2002. Accessed June 24, 2017. http://berkeleyheritage.com/berkeley_landmarks/incinerator.html.


Additional Information