Tulsa Air and Space Museum & Planetarium
Introduction
Founded in 1998, the Tulsa Air and Space Museum & Planetarium celebrates the city's and Oklahoma's aerospace history. It features several permanent exhibits including Early Birds, which explores the early years of aviation and the aerospace industry in the state; Golden Age, which brings visitors back to the 1930s with a recreated Tulsa Municipal Airport Terminal, a Spartan NP-1 crank start biplane used to train members of the U.S. Navy Reserve, and other interesting information; WWII, which explores the role Tulsa played during the war; The Jet Age, which highlights the pioneers companies of the aviation industry; and the Space Age exhibit, which tells visitors how Tulsa became an important place of activity for NASA using artifacts and stories of Oklahoma astronauts. Visitors will see numerous interesting items on display including a variety of engines, an F-14 Tomcat, a Star Cavalier plane, and many others. There is even a jet trainer used by the Air Force that kids can climb into and pretend to be a pilot. In addition to the exhibits, the museum offers a wide variety of educational programs for children. The Planetarium presents shows about astronomy, earth science, and art history. The museum also puts on events such as the Tulsa Centennial Air Show, the National Air Tour, and the TASM Air and Rocket Racing Show.
Images
The Tulsa Air and Space Museum & Planetarium was founded in 1998.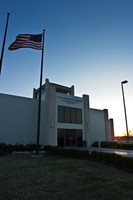 Backstory and Context
The museum opened in 1998 and was first located in a 1940s hangar at the Spartan School of Aeronautic's Campus. By 2005, it moved to its current location at the Tulsa International Airport and opened the Planetarium a year later. It then expanded in 2013 when it opened the Discovery Science Center.
Sources
"About Us." Tulsa Air and Space Museum & Planetarium. Accessed March 2, 2018. http://www.tulsaairandspacemuseum.org/about-us/
Additional Information