Harn Homestead and 1889ers Museum
Introduction
This 10-acre historical homestead, claimed during the Great Land Run of 1889, is listed in the National Register of Historic Places. There are seven buildings on the grounds including a one-room schoolhouse, the first two-story home built in Oklahoma, and a 1904 Victorian home where the Harns resided.
Images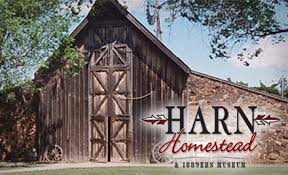 Backstory and Context
At first, Mr. and Mrs. Harn lived in a one-room house on the property. Mrs. Harn wanted to return to Ohio to her family but Mr. Harn said that if she would stay in Oklahoma, he would build her any house she wanted. She chose a Victorian, Queen Anne style home, characterized by a small, offset front porch and the half-octagon shape of the parlor and upstairs bedroom. Mr. Harn ordered it for a Christmas present. It was crated up in Chicago, put on a train, and erected at the homestead in 6 weeks in 1904.
Mr. and Mrs. Harn did not have any children, but they did take in Mrs. Harn's niece, Florence Wilson. Mrs. Harn died in 1931 and Mr. Harn passed away in 1944. Miss Wilson inherited the house and property and lived there until 1967. She deeded it to the City of Oklahoma City for a museum. After passing through several historical societies, the Harn Homestead is now a private museum. In June 1986, the museum became the William Fremont Harn Gardens, Inc., doing business as the Harn Homestead, a private non-profit 501(c) (3) corporation.
When the Harns niece, Florence Wilson, deeded the property to the City, she did so with the expectation that this homestead would offer educational programming to children and become a children's museum. Continuing with Miss Wilson's wishes, it is our mission to teach about Oklahoma's pioneers and what life was like for them over 100 years ago.
Additional Information