Peter J. McGuire Memorial and Gravesite
Introduction
Gravesite and nearby memorial to Peter J. McGuire (1852-1906), founder of United Brotherhood of Carpenters and Joiners, one of the founders of American Federation of Labor, activist, humanitarian and organizer. First suggested establishment of holiday to honor laborers in 1882 to Central Labor Union of New York City. Ever since his death in 1906, annual Labor Day ceremonies in his memory have been conducted at site, drawing labor leaders, social activists, government officials, descendants and others in community. Memorial erected and dedicated in 1952 marking centennial, as gravesite could no longer accommodate Labor Day gatherings.
Images
Peter J. McGuire Memorial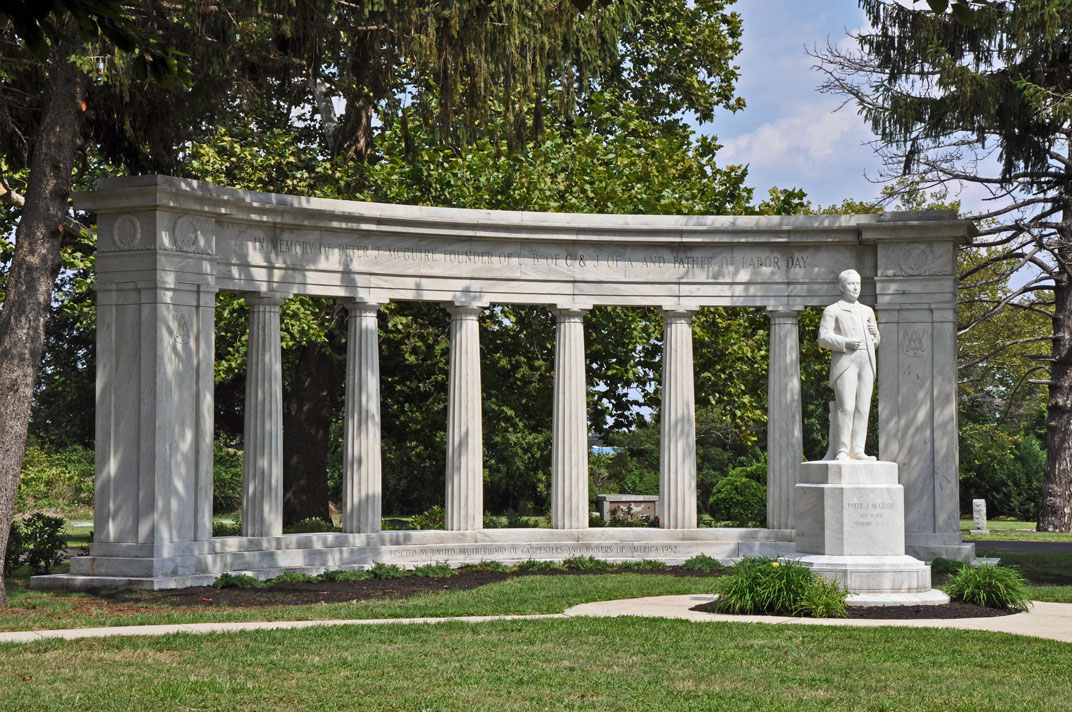 Peter J. McGuire gravesite with Memorial in background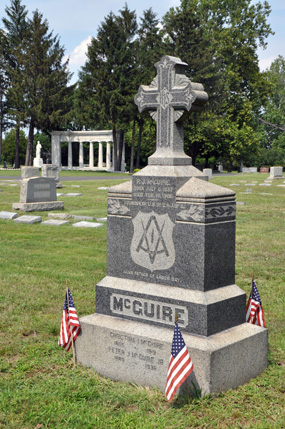 Backstory and Context
Peter J. McGuire was born in New York City in 1852, the son of Irish immigrants, went to work to help his family when his father was inducted into service in 1863. Learned carpenter's trade, attended lectures at Cooper Institute where he met Samuel Gompers, lifelong friend. Following brutal police suppression of unemployed relief demonstration at Tompkins Square in 1874, left New York. Organized carpenters in St. Louis, called for Chicago convention to form national union in 1881. Brotherhood of Carpenters and Joiners formed, McGuire became first General Secretary. Edited trade and organizing journal The Carpenter. Also in 1881, along with Samuel Gompers and others founds predecessor to A.F. of L., serves as Vice President. Offices of Brotherhood moved to NYC, in May1882 McGuire spoke at a meeting of the Central Labor Union of New York and advocates establishment of holiday to honor laboring people to be observed in beginning of September. First recognized Labor Day celebration held September 5 at Union Square, NYC with many labor leaders and thousands of members and supporters in parade. As only full-time staff of Brotherhood, McGuire became peripatetic organizer, traveling and speaking tirelessly in support of labor demands at locals across the country. McGuire and his carpenters led two nationwide campaigns for the establishment of the eight-hour day, in 1886 and 1890. Legislation enacted to establish Labor Day holiday in 1894. With changing organizational leadership and methods, and amid financial irregularities, McGuire was removed from leadership of Brotherhood starting in 1900. After his death in Camden, N.J. in 1906 and interment at Arlington Park Cemetery in Pennsauken Township, reverence for his role in labor movement and founding of carpenters' union began to revive. Local carpenters purchased his burial plot and headstone, noting him as "Father of Labor Day." Annual ceremonies in remembrance of P.J. McGuire have been held each year since 1906 around Labor Day, drawing large crowds and prominent individuals including local and national labor leaders, Congressmen, Senators, Secretaries of Labor and more. Memorial with full-length marble statue and colonnade erected and dedicated in 1952 for centennial of birth of McGuire is now the site of the annual observances.
Sources
Gompers, Samuel. Seventy Years of Life and Labor. New York: E.P. Dutton & Co., 1925
Galenson, Walter. The United Brotherhood of Carpenters: The First Hundred Years. Cambridge, Mass.: Harvard University Press, 1983
Christie, Robert. Empire in Wood: A History of the Carpenters' Union. Ithaca, N.Y.: Cornell University Press, 1956
The Carpenter, United Brotherhood of Carpenters and Joiners, 1881-
Additional Information