Blackbeard's Queen Anne's Revenge Wreck
Introduction
On about June 10, 1718, pirate Edward "Blackbeard" Thache wrecked his flagship, Queen Anne's Revenge upon the bar approaching Beaufort Inlet, North Carolina. The 40-gun slave ship, formerly known as the French La Concorde, was lost and is currently an underwater archaeological site being excavated by nautical archaeologists from East Carolina University. David Harriot's ship Adventure was also lost trying to free the QAR from the bar. Two other vessels in their flotilla survived. Thache was once accused of wrecking his ship on purpose, but this has recently been shown unlikely through historical and archaeological investigation. Artifacts are being preserved by North Carolina's Maritime Museum in nearby Beaufort, NC. Afterward, Thache was also known to visit the town of Bath locally and trade with its residents after the wreck. He was later killed by Virginia governor Alexander Spotswood's naval forces under Lt. Robert Maynard.
Images
A French vessel similar to Queen Anne's Revenge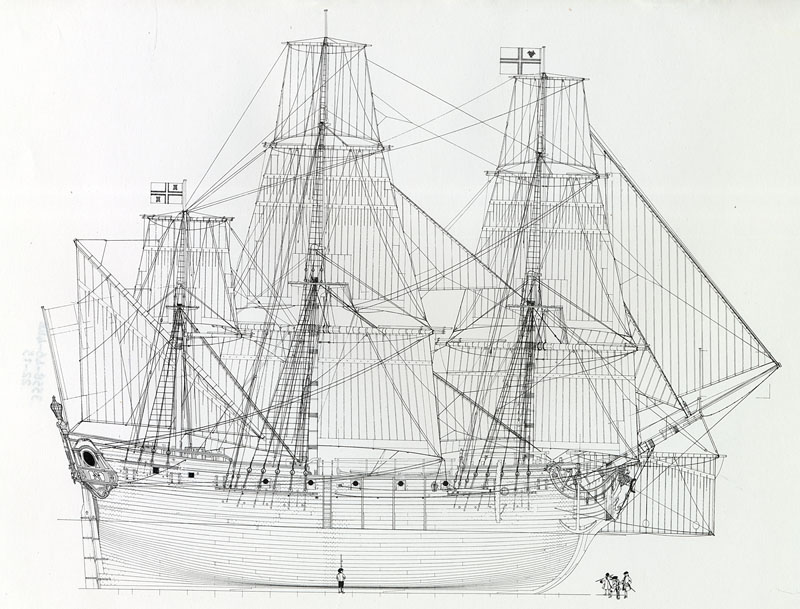 Backstory and Context
Capt. Ellis Brand of HMS Lyme, stationed in Virginia and part of the expedition to capture or kill the pirate Edward "Blackbeard" Thache, wrote that, on about June 10th, "a large pyrate Ship of forty Guns [Queen Anne's Revenge] with three sloops in her company… struck upon the bar att the entrance to the harbor [Topsail or Beaufort Inlet] and is lost." 1 Brand told of an original compliment of 320 total pirates, some of which had gone to surrender at North Carolina and some in Virginia. He appeared to refer to the total number of pirates, not just the compliment of the QAR. As he confidently stated "two hundred and 30 of the pyrates they continue together given out they design for Currico [Curacoa] and other of the Islands." 2 Brand implied that the majority of the ninety men left had surrendered and taken pardons.

Most scholars, both historians and archaeologists alike, now lean toward an accidental grounding. There are holdouts. Angus Konstam still feels that Thache would have to make his efforts look good to his crew. He feels that this insured Thache's future survival. The evidence, however, of Brand's neglecting to mention Thache's alleged treachery in his letters to the Admiralty, the archaeology showing Thache's efforts to free the ship, the lack of hostile testimony of supposedly angry former crew members in Charles Town, all tend to exonerate Thache. 3

Thache's crew were undoubtedly unhappy after the QAR grounded. Still, French records show that there was discord among them at least since December 1717 – and, so, not related to the grounding. Brand did indicate that, after the wreck, they argued amongst themselves. Brand said that his information came from "a man that had left [the pirates], about seventeen days since [about June 22nd]." The man told him that "the two sloops' crews are fallen out and it was expected they would engage each other if there disputes, are not soon reconcil'd amongst them." 4

David Harriot's testimony from the later trial of Stede Bonnet at Charleston, South Carolina:

That the next morning after they had all got safe into Topsail [Beaufort] Inlet, except Thatch, the said Thatch's ship Queen Anne's Revenge run a-ground off the bar of Topsail [Beaufort] Inlet, the said Thatch sent his Quarter-Master [William Howard] to command this deponent's sloop to come to his assistance, but she run a-ground likewise about gun-shot from the said Thatch, before his said sloop could come to their assistance, and both the said Thatch's ship and this Deponent's Sloop were wreck'd; and the said Thatch and all the other Sloop's companies went on board the Revenge, afterwards called the Royal James, and on board the other sloop they found empty off the Havana. 5

An explanation for Thache's having been accused of wrecking QAR on purpose:

David Herriot of Jamaica, former commander of Adventure, "taken," as the transcript stated, by Thache and Bonnet at the Bay of Honduras, is already known to have been marooned by Thache in North Carolina. He initially gave a detailed five-page deposition about the wrecking of the QAR and his time with Thache since leaving the Bay of Honduras. Ignatius Pell affirmed what he said, adding minor details. Herriot specifically accused Thache of wrecking his ship on purpose, as he said "'Twas generally believed the said Thatch run his Vessel a-ground on purpose to break up the Companies, and to secure what Moneys and Effects he had got for himself." Pell simply agreed "all and singular the Matters and Things herein before deposed by the said David Herriot are true." 6 It was these two men who turned state's evidence and were initially expected to live. Neither of them even appear on the title page of the published trial transcript as "pirates" on trial. These two men, alone, were the only ones of the almost forty defendents who accused Thache of this "generally believed" treachery concerning his "purposeful" wrecking of the QAR. If Thache had any defense present, his lawyer may have asked: who else actually believed this?

Herriot also did not appear as innocent as he claimed in his deposition. He lied about his reasons for meeting with the pirates at Turneff Key in the Caribbean – that he freely joined them and was not captured, as he claimed. His association with Edward Thache and Stede Bonnet eventually ended his life, although not at the end of a rope like the rest. Trial transcripts mention that Bonnet "prevailed with Master Herriot to run away with him, who has since been killed." Trott, who originally planned to use Herriot as a witness for the prosecution as with Ignatius Pell, conducted the trials of Bonnet's pirates without him. Soon, marshals located Bonnet and retook him, shooting Herriot in the escape attempt on Sullivan's Island. Herriot probably freely joined Thache, spent a great deal of time with both Thache and Bonnet and, later claiming to have never been involved with any piracy. Then, he flees from jail, even after a promise of acquital. He may otherwise have lived, having turned evidence against Bonnet and his shipmates. There does indeed seem to be more to his involvement. 7


Sources
1. Baylus C. Brooks, Quest for Blackbeard: The True Story of Edward Thache and His World (Lake City, FL: Baylus C. Brooks, 2016), 542.

2. Ibid.

3. Baylus C. Brooks, Quest for Blackbeard: The True Story of Edward Thache and His World (Lake City, FL: Baylus C. Brooks, 2016), 445.

4. Ibid.

5. Quoted in Ibid.


6. Baylus C. Brooks, Quest for Blackbeard: The True Story of Edward Thache and His World (Lake City, FL: Baylus C. Brooks, 2016), 462.

7. Ibid.

Additional Information