Berkeley Protester Statues ("Berkeley Big People")
Introduction
The largest piece of public art ever commissioned by the city, the Berkeley Big People is a statue commemorating the city's many protests. The 30-foot sculpture is the work of artist Scott Donahue.
Images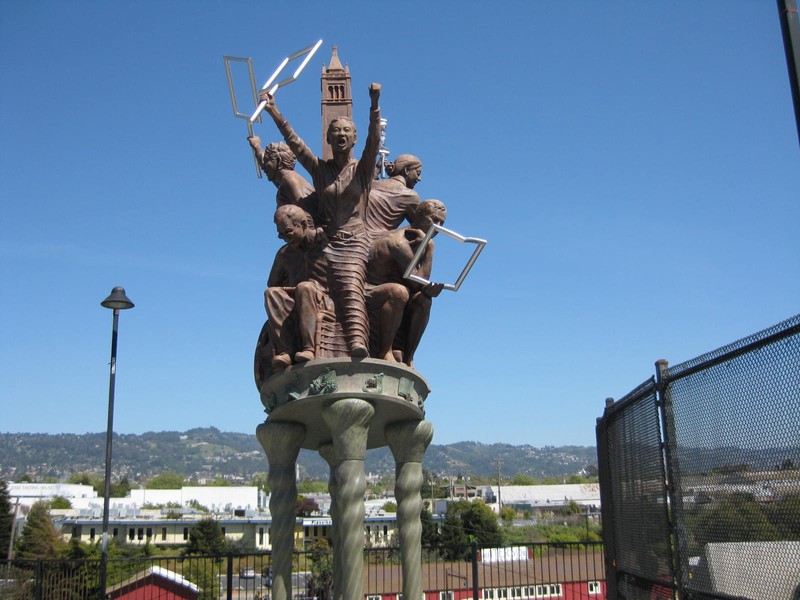 Backstory and Context
Completed in 2008 by artist Scott Donahue, the Berkeley Big People statue memorializes Berkeley's well-known history of civil demonstrations. The sculpture is a 30-foot tall work made of fiberglass, and is visible for about a mile in either direction from I-80.

The sculpture depicts a group of angry protesters with raised fists. The sculpture references some of the more famous demonstrations from Berkeley's past, including the People's Park protest, Mario Savio and the Free Speech movement, and a disabled person leaving a wheelchair behind to crawl up the steps of City Hall.

At the base of the sculpture, the protesters merge into several figures representing different aspects of Bay area life: a birdwatcher, a musician, a jogger, and a boater.

The sculpture's location might strike some as an odd choice, as it not near the university where many of the protests took place. But the piece was positioned in such a way that it would serve as a gateway to the city, welcoming visitors to Berkeley, a city with a long history of civil demonstrations.
Sources
Jones, Carolyn. Sculpture Depicts Berkeley's Biggest Protests. SFGate. October 17, 2008. Accessed June 19, 2017. http://www.sfgate.com/bayarea/article/Sculpture-depicts-Berkeley-s-biggest-protests-3190228.php.


Additional Information