Captain Higgins's Temperance Grocery Store (Bowen's Inn)
Introduction
A City of Berkeley Landmark, the building ta 834 Delaware Street is believed to have been built in 1875 by Captain James Higgins. The building served as an inn, saloon, stagecoach stop, and grocery store. It is believed to be one of the oldest existing buildings in Berkeley.
Images
Captain Higgins's Temperance Grocery Store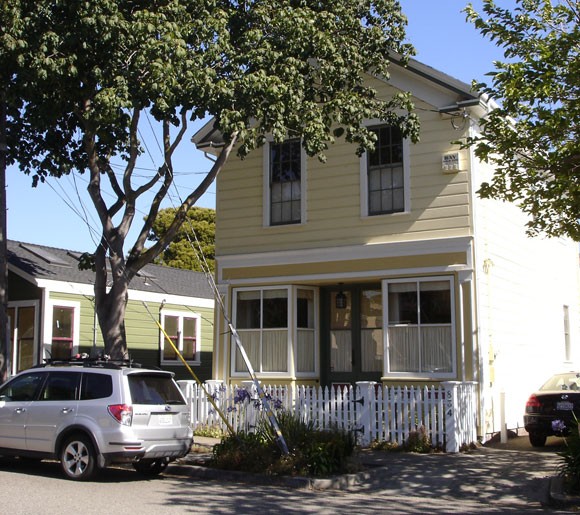 Backstory and Context
Though it has been moved at least twice in its long history, the building known as Captain Higgins's Temperance Grocery Store has occupied space on or near Delaware Street since 1875. It is believed to be the oldest remaining structure in Berkeley.

The building was built by Captain James Higgins and served a number of functions in the city's early history: grocery store, stagecoach stop, inn, and saloon. Later in the 1800s, it also served as a post office. In 1893, the building was moved to the corner of Delaware and Fifth, where it began operation as the "temperance grocery store."

In later years, the building served for a time as Liberty Hill Baptist Church. It eventually became a private residence and is now a City of Berkeley Historic Landmark.
Sources
Thompson, Daniella. Berkeleyheritage.com. Accessed June 18, 2017. http://berkeleyheritage.com/berkeley_landmarks/bowen_inn.html.


Additional Information