Tribune Tower (Oakland)
Introduction
Stoof at 305 feet, the Tribune Tower is a 22-story building located in downtown Oakland. The building itself was constructed 1906 and the tower was later erected in 1923. It is currently the 11th tallest building in Oakland. The architecture of the tower was inspired by St Mark's Campanile in Venice, Italy. The building was opened by Joseph R. Knowland on January 1, 1924, as the home of the Oakland Tribune newspaper, and became a symbol of both the Tribune and the city of Oakland.
Images
A Black and white aerial shot of the Tower.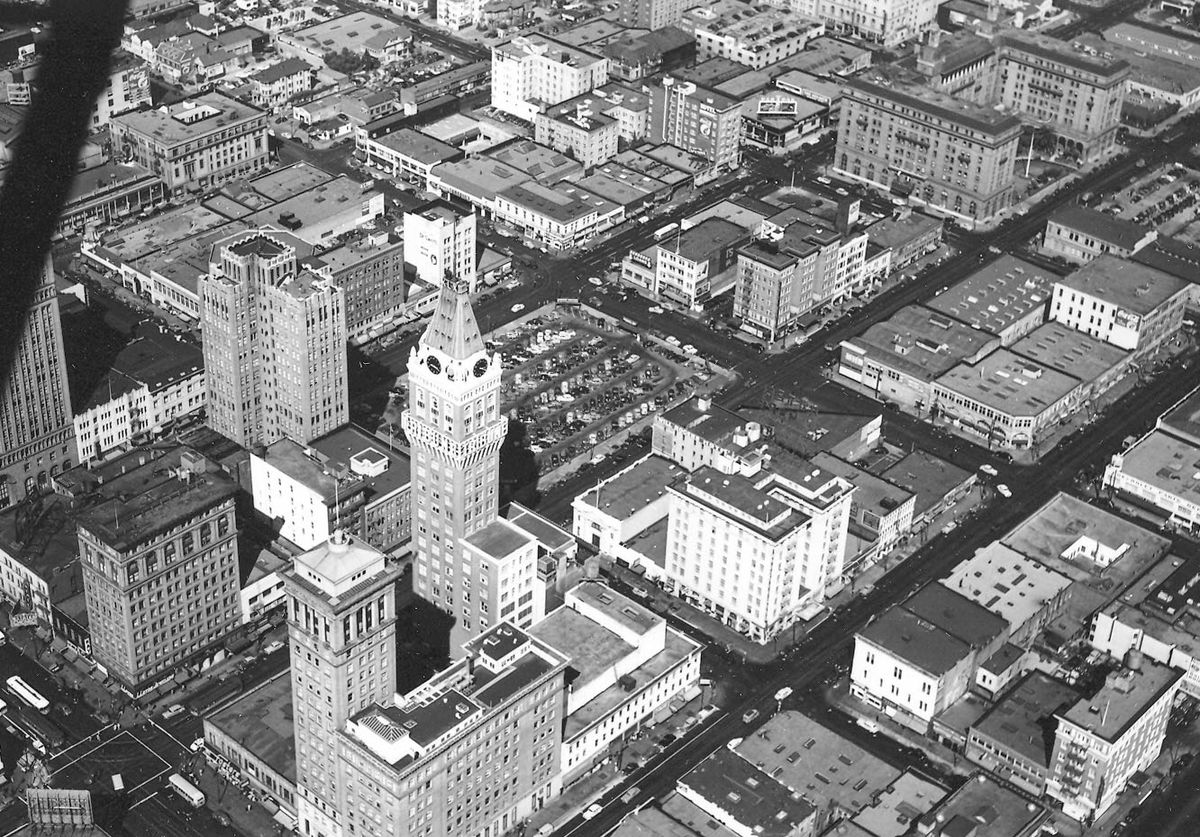 Tribune Tower lit up in colours.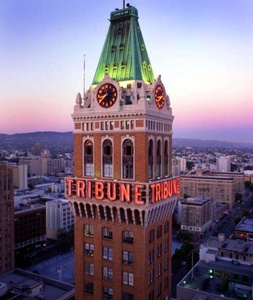 An old view of the Tower from down the street.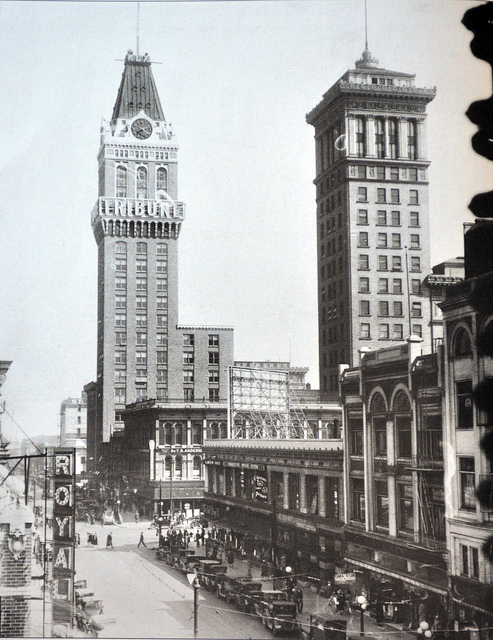 Backstory and Context
Joseph Knowland, a former U.S. congressman, acquired the Oakland Tribune in 1915 which at the time was located in the old Golden West Hotel. In 1918, when the previous tenants moved out, Knowland had his eye on a nice location at Thirteenth and Franklin. He envisaged the building and its adjacent warehouse as the site of a first-class newspaper facility. He began purchased the building and moved the Tribune there.
The building had stood since 1906 and was a product of designer D. Franklin Oliver. The attached warehouse, which became the Tribune's press room, was built in the 1890s on the site of the old Pantages Theatre. The now-familiar clock tower, designed by Edward Foulkes, was added in 1923 to complete the Tribune Tower as it appears today.
The Tribune Tower gained national attention in 1923 when Harry Houdini escaped from a straitjacket while dangling upside down from the ninth floor of the building. (It took him five seconds). The building was declared a city landmark on May 4, 1976.
In 1979, Gannett Company bought the newspaper and the Tower from the Tribune Publishing Corporation, later selling the Tribune to its editor and publisher, Robert Maynard and his wife Nancy Maynard, the first African Americans to own a major daily newspaper in the U.S. After the 1989 earthquake, the newspaper was forced to move offices, and the tower remained empty for the next six years when it was purchased for $300,000 by John Protopappas.
The building sold for $8 million to Tom Henderson, CEO of SFRC and an Oakland native. In 2017 Tom Henderson was sued by the US Government and accused of running a fraudulent investment scheme with Chinese investors' money and his case is still ongoing as of 18/06/2017.
Sources
Arvizu, Gabriela. The Tribune Tower: Behind one of Oakland's main attractions. Oakland North. February 26, 2015. Accessed June 18, 2017. https://oaklandnorth.net/2015/02/26/the-tribune-tower-behind-one-of-oaklands-main-attractions/.

Lau, Victoria. Downtown Oakland Historic District © Almonroth/Wikimedia California / HISTORY A Brief History Of The Oakland Tribune Tower. Culture Trip. November 14, 2016. Accessed June 18, 2017. https://theculturetrip.com/north-america/usa/california/articles/a-brief-history-of-the-oakland-tribune-tower/.