Villa Paula
Introduction
Villa Paula was built in 1926 and served as the first Cuban consulate in Miami. The mansion was named after Paula Milord, the wife of a Cuban consulate. The mansion is located in the neighborhood now known as "Little Haiti" and continues to serve as a reminder of the rich history of the area and the international communities that have called this section of Miami their home over the past century. The historic home is now the location of a museum and art gallery that includes works by Floridian artists as well as masters from Renoir to Picasso.
Images
This former Cuban consulate was built in 1926 and now serves as the home of an art museum.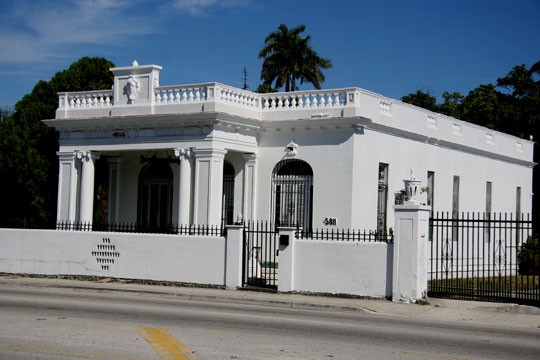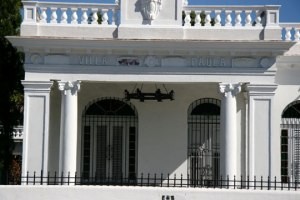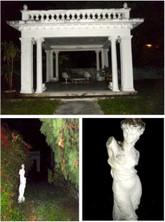 Backstory and Context
Villa Paula was built in 1926 and named after Paula Milord, the wife of Cuban consulate, Domingo Milord. The materials used to build Villa Paula were brought over from Cuba, as were many of the workers who constructed the mansion using Spanish and Cuban building techniques. The home was designed by Cuban architect C. Freira in a Neoclassical style. This is evident in the plain white exterior, the heavy use of columns and pediments, arched windows, and balustraded roof. The building includes ten rooms with grand eighteen-foot-high ceilings. In addition to being architecturally significant, Villa Paula is also historically significant for being the first Cuban consulate in Miami. For this reason, it was designated as historic by the City of Miami in 1983. 
Paula Milord died a few years after moving into the mansion from complications after a leg amputation. Following her death, Villa Paula was no longer used for Cuban governmental business. Muriel Reardon purchased the home upon Milord's death and lived in the mansion until her own death in 1960. The property changed hands several times throughout the 1960s and early 1970s until it was purchased by Cliff Ensor in 1974. Ensor refurbished the house and reversed years of neglect. At the time, vandals had destroyed the beautiful stained glass windows and sprayed graffiti over the walls. Ensor also employed gardeners and landscapers to restore the mansion's grounds, which had not been tended to in many years.
Ensor claimed to have experienced many unusual occurrences that he could not explain, such as loud thuds that sounded like footsteps, apparitions of a one legged lady, unmoored piano music, and the falling of a chandelier. Believing that the property might be cursed or haunted, Ensor hired a self-described "psychic medium" who reported that the spirit of Paula inhabited the building and loved to play the piano. The psychic also explained the death of Ensor's three cats by claiming that Paula Millord hated cats. These stories led to Villa Paula developing a reputation as one of the most haunted houses in South Florida. In fact, Ensor sold the house at auction in 1985, but the winning bidder immediately backed out of the deal after they learned of the alleged haunted nature of the house. Two years later, Ensor successfully sold the house to Lucien Albert, a Haitian pediatrician. Albert occupied the home until 2003, when he sold it to the Villa Paula Restoration Group, in the care of Mark Swedroe.
Swedroe was interested in seeing Villa Paula restored to its former glory. Though embroiled in a protracted legal battle over ownership of the home, Swedroe restored the historical appearance of the structure and insulated the space from future deterioration. In 2016, a new gallery and venue space opened in Villa Paula. With works by artists such as Auguste Renoir, Pablo Picasso, and Wilfredo Lam, the gallery boasts an impressive collection for such a new space. Artist in residence Joe Chirichigno manages the gallery. The home was put up for sale in 2018. Any future plans for the space are not available to the public as of late 2020.
Sources
Cantarella, Terence. The True Story Behind Miami's "Haunted" Former Cuban Consulate, Miami New Times. October 29th 2019. Accessed November 23rd 2020. https://www.miaminewtimes.com/news/is-miamis-former-cuban-consulate-villa-paula-really-haunted-11297543.
Cantarella, Terence. Villa Paula and the Ghosts of Little Haiti. Biscayne Times. April 1st 2008. 1 - 12.
Chirichigno, Joe. About the Historic Villa Paula, Historic Villa Paula Gallery & Museum . January 1st 2016. Accessed November 23rd 2020. http://villapaulamiami.com/#gallery.
Kussin, Zachary. The spooky history of Miami's 'most haunted home', New York Post. May 25th 2018. Accessed November 23rd 2020. https://nypost.com/2018/05/25/the-spooky-history-of-miamis-most-haunted-home/.
McCaughan, Sean. Miami's First Cuban Consulate Was the Mysterious Villa Paula, Curbed Miami. July 20th 2015. Accessed November 23rd 2020. https://miami.curbed.com/2015/7/20/9938738/miami-cuban-consulate-villa-paula.
Minta, Molly. Miami's Haunted Former Cuban Consulate for Sale for $4.5 Million, Miami New Times. May 29th 2018. Accessed November 23rd 2020. https://www.miaminewtimes.com/news/villa-paula-haunted-mansion-in-little-haiti-goes-on-sale-for-45-million-10382945.
Tullo, Danielle. Miami's Most Haunted House Is for Sale for Nearly $5 Million, House Beautiful. June 13th 2018. Accessed November 23rd 2020. https://www.housebeautiful.com/lifestyle/a21343834/miami-paula-villa-haunted-house-for-sale/.
Villa Paula: The Haunted Jewel of Miami, Cassis Burke Collection. October 20th 2017. Accessed November 23rd 2020. http://www.cassisburkecollection.com/villa-paula-the-haunted-jewel-of-miami/.
Villa Paula, Historic Preservation Miami. Accessed November 23rd 2020. http://www.historicpreservationmiami.com/villapaula.html.
Additional Information