Golden Gate Branch Library
Introduction
Built in 1918, the Golden Gate Branch Library is one of sixteen branch libraries in the Oakland Public Library system, holding over 35,000 items. It has a large collection of jazz music and is well known for its Golden Gate Friends sponsored Summer Jazz on Sundays series. The building was designed by architect C.W. Dickey and was designated as an Oakland Landmark on November 4, 1980. The Golden Gate Branch also has the largest collection of African American interest materials in the Oakland library system.
Images
A shot of the library as it stands today.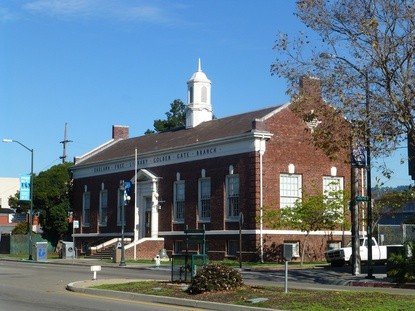 Backstory and Context
The Golden Gate area of Oakland was originally inhabited by the Huchion band of the Ohlone people. It then became part of the Ranch San Antonio grant and started burgeoning into what it is today. The area was originally known as Klinknerville named after Charles Alexander Klinkner who built 75 homes in the area. The name was changed to Golden Gate in 1888.
The Golden Gate branch of the Oakland Library opened in 1918, built with funds from the 1914 Carnegie grant. It was designed by Donovan and Dickie and is a good example of early 20th century Georgian Revival Architecture. In the first half of the 20th century, the Golden Gate was an entertainment district, with many bars including the original Trader Vic's where the cocktail Mai Tai is said to have been invented.
In the last half of the 20th century the retail district underwent a period of decline and by 1998 was considered blighted by the city of Oakland. In 1982, the East Bay Negro Historical Society (EBNHS) was invited into the Golden Gate Branch of the Oakland Public Library, making it the first Oakland city library with a predominantly African American focused collection.
Sources
Golden Gate Branch Library. Local Wiki. Accessed June 18, 2017. https://localwiki.org/oakland/Golden_Gate_Branch_Library.