Ellen Kenna House
Introduction
Built in 1888, the Ellen Kenna House is a large Victorian mansion named after its original owner, Ellen Kenna. The building was designed by architect Augustus Laver. Ellen Smith had married Patrick Kenna sometime in the 1879s and the couple lived on Hobart Street before moving to this location. Ellen used her own money to buy the property in her own name for $14,000 in gold coins and subsequently spent $16,000 to build her family home. During the era, large houses in Oakland would typically cost $3,000 to $5,000 for construction, so $16K resulted in a spectacular home. On June 23, 1992 the Ellen Kenna House was designated Oakland Landmark.
Images
A shot of the house from 2016.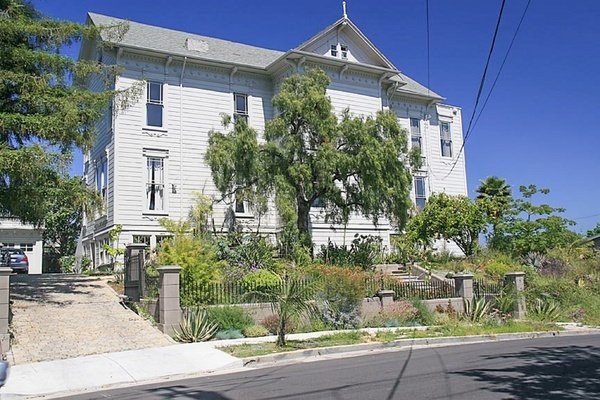 Backstory and Context
Ellen Kenna chose architect Augustus Laver to design her home. He had previously worked on James Flood's mansion on Nob Hill which is today the Pacific Union Club and Linden Towers. During this time, she competed with her neighbours, the Valentines, whose mansion cost even more than hers did. On September 24, 1903 Ellen Kenna's daughter Isabel married Irving Burrell in the home which had over 150 guests in attendance. Ellen Kenna continued to live in her home until her death in 1925.
After this, the home was purchased by the Pacific Protective Society whose purpose was to rehabilitate problem girls by giving them an opportunity for the "higher and nobler things in life that characterize true womanhood." At some point, according to online title records, the property was purchased by Kendall Ray and Rhoada Simmons. In 1980, the Simmonses sold the property to Gabe Sheridan and Frank Rapp, who worked to restore the house into a private residence with some of its former elegance.
In 1982 the house was sold to Bill Brainer and Don Boultinghouse, who continued with additional interior renovations. In 1990, the house was sold to the Center of Third World Organizing (CTWO), who used the home for training and a retreat, with the spacious rooms utilized for meetings and workshops. On June 23, 1992, the Ellen Kenna House was designated Oakland Landmark.
In 2013 the Home was purchased by Steve Kopff and Josh Stenzel who have begun the lengthy process of restoring the home to its original glory.
Sources
Ellen Kenna House. Local Wiki. Accessed June 18, 2017. https://localwiki.org/oakland/Ellen_Kenna_House.

Massive Landmark Oakland Mansion Up for Sale for $1.8M. SF Curbed. January 11, 2016. Accessed June 18, 2017. https://sf.curbed.com/2016/1/11/10848146/massive-landmark-oakland-mansion-up-for-sale-for-1-8m.