Dunsmuir Hellman House
Introduction
The Dunsmuir Hellman House was built by Alexander Dunsmuir, co-heir to the Dunsmuir coal and shipping fortune, in 1899 as a wedding present to his new bride Josephine. Alexander died on their honeymoon in New York, leaving Josephine to live in the new Oakland home until she too died - just a year later, in 1901. The house was designed in a neoclassical-revival architectural style and is listed in the U.S. National Register of Historic Places. Today it can be used for weddings, receptions, business gatherings, and historical reenactment events.
Images
A shot of the house today.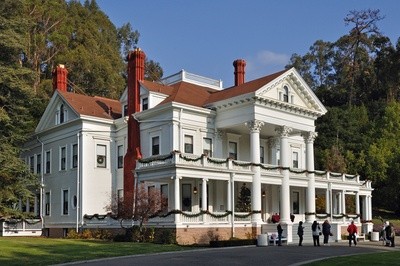 An old Black and white shot of the house.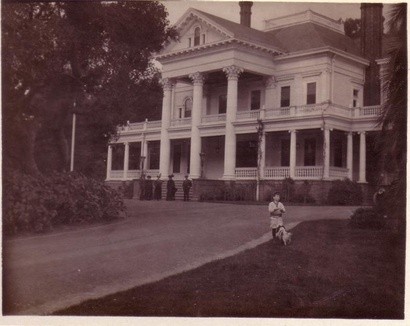 An old map for directions to the house.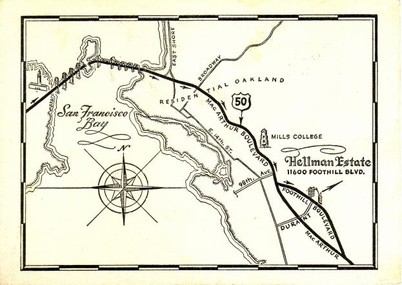 Backstory and Context
Alexander Dunsmuir was the son of Robert Dunsmuir, a wealthy coal magnate from Victoria in British Colombia. The Dunsmuir mansion was designed by San Francisco architect J. Eugene Freeman and has 37 rooms totalling 16,224 square feet as well as 10 fireplaces, a Tiffany-style dome, wood paneled public rooms, and inlaid parquet floors.
The estate was purchased by I.W. Hellman Jr. in 1906 to use as a summer house for his family. He remodelled it in 1913 to meet his personal needs for storing his acquisitions from his travels in Europe. After he died in 1920, his wife kept the estate for another three decades.
The City of Oakland purchased the mansion and surrounding lands in the early 1960s with the intention of using it as a conference center. This project ultimately didn't work out and a non-profit organization was formed in 1971 to preserve and restore the estate for the benefit of the public.
Docents lead tours of the estate grounds and the 37-room Dunsmuir Mansion on Wednesdays and the first Sunday of the month from April – September (except for July).
The estate has also been used as a location or background for several movies and television shows.
Sources
Dunsmuir Hellman House. Local Wiki. Accessed June 17, 2017. https://localwiki.org/oakland/Dunsmuir_Hellman_House.

Alexander Dunsmuir. Met Cirque. Accessed June 17, 2017. http://www.metacirque.com/laurencecook/dunsmuir/alex.html.

The Tragic Story Behind Oakland's Dunsmuir Hellman Historic Estate. Culture Trip. Accessed June 17, 2017. https://theculturetrip.com/north-america/usa/california/articles/the-tragic-story-behind-oaklands-dunsmuir-hellman-historic-estate/.