Coal Heritage Park
Introduction
Coal Heritage Park educates visitors on the history of Mt. Hope. The area that is now Mt. Hope, WV was sparsely populated until the discovery of a coal seam by settlers at Turkey Knob and another at Glen Jean. Coal companies and their employees flooded the town and by 1894, there were several companies in Mt. Hope. The industry's growth in the area was aided by the Chesapeake & Ohio Railway line that was built through the town in 1873. Mt. Hope steadily gained population and was incorporated in 1895. The town was unique as it was not a company owned mining town, as many others in the region were. Because of this independence, Mt. Hope had a much wider variety of businesses and was not limited to a single company owned store. Like many other coal towns, the population and commercial growth of the city has been in decline as the coal industry has become less profitable. The park was created in 1930, just nine years after Mt. Hope was granted a city charter by the West Virginia Legislature. The iconic drinking fountain in the park rests on a concrete foundation with semi-circular arches and keystones of native ashlar stone. Landscaping includes various trees and a planting bed surrounding a large piece of coal mounted on a concrete base. Across the street, an exposed seam of coal is framed by a cut stone arch with the words "Famous New River Smokeless Coal" inscribed above. Both assets are contributing structures in the Mount Hope Historic District. The city of Mt. Hope lies within the National Coal Heritage Area, which spans 13 counties in southern West Virginia. The National Park Service aims to protect the history of coal in the region and educate visitors on the region's history.
Images
Stone fountain with interpretive signage visible.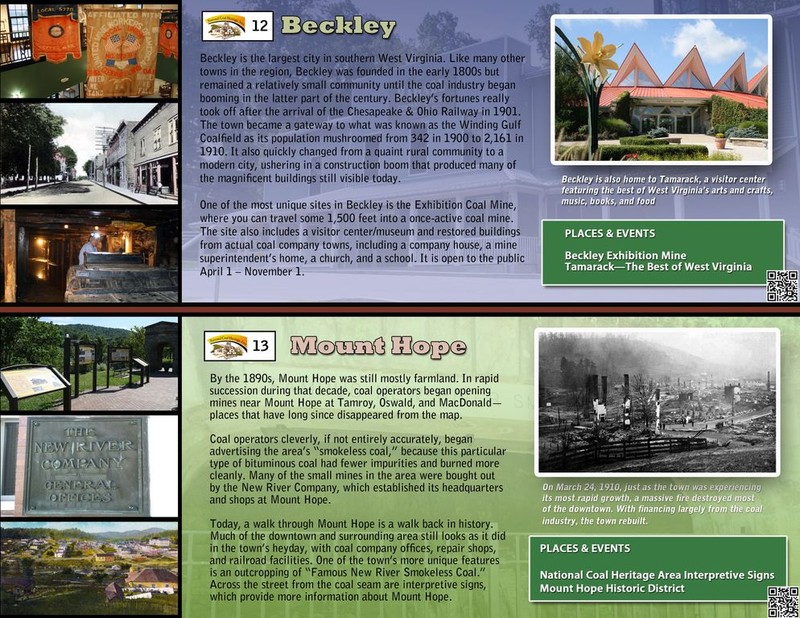 Weather and age test monument of the Sewell Coal Seam erected in 1932.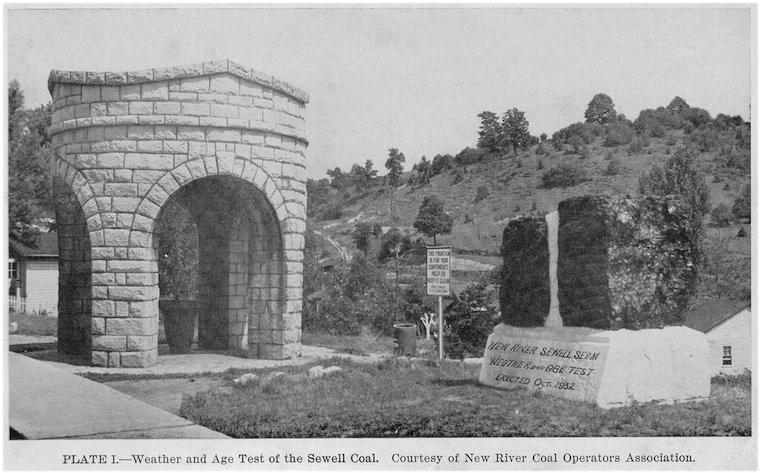 Backstory and Context
Sources
History of Mount Hope. Mt. Hope, WV.  Accessed February 17, 2019. https://mthopewv.org/history/.
National Coal Heritage Area. National Coal Heritage. Accessed February 17, 2019. http://coalheritage.org/page.aspx?id=69.
Taylor, David L. National Park Service. National Register of Historic Places. Accessed July 04, 2017. https://npgallery.nps.gov/NRHP/GetAsset/7e0c1890-5cba-4f03-b09d-1fd9c11a6ae9?branding=NRHP.
Additional Information