Casa de Armijo
Introduction
This sign sits on one of the oldest homes of Albuquerque (though mostly rebuilt in 1930 as it most of was in ruins by then), that is now a restaurant. Not just any ordinary home in historic Old Town, but the home of the de Armijo family-- a powerful and prominent family for Albuquerque and the region for many years since it was founded by Spain and then ruled by Mexico. The home was scene to many parties, meetings, social gatherings. It was also home to the last Mexican governor of New Mexico, Manuel Armijo, before what is now known as the American Southwest was signed over following the Mexican War. The home is now a restaurant in Old Town Albuquerque, called La Placita. The building is said to be haunted.
Images
Circa 1840 watercolor portrait of Manuel Armijo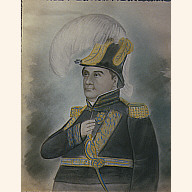 Casa de Armijo/La Placita as it looks today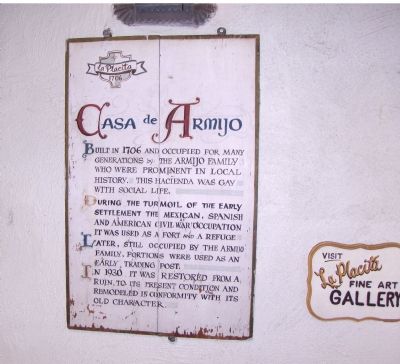 Historic sign for Casa de Armijo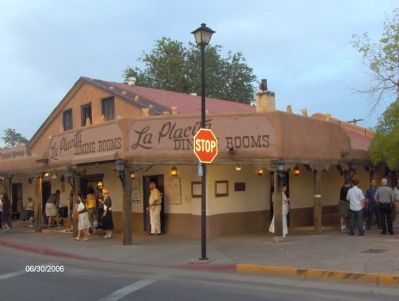 Circa 1931 photo Case de Armijo, then turned into La Placita restaurant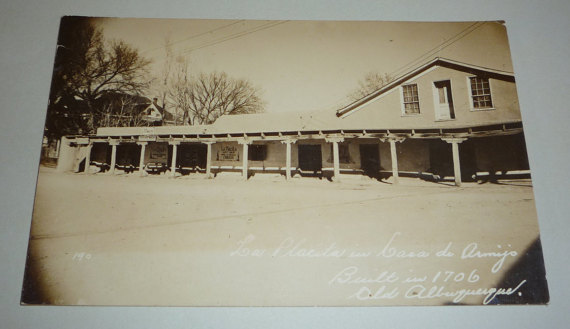 1880s photo of Casa de Arminjo when served as an office building and courthouse for the County of Bernalillo (of which Albuquerque is located)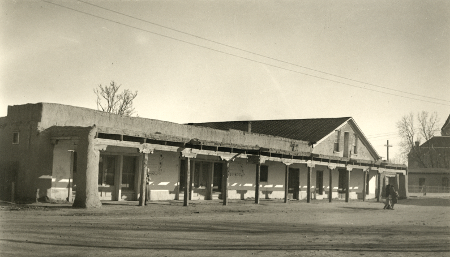 Backstory and Context
The sign found on an exterior wall by the front entrance of Casa de Armijo/La Placita states the following:

"Built in 1706 and occupied for many generations by the Armijo family who were prominent in local history. This hacienda was gay with social life.

During the turmoil of the early settlement the Mexican, Spanish and American Civil War occupation it was used as a fort and a refuge.

Later, still occupied by the Armijo family, portions were used as an early trading post.

In 1930 it was restored from a ruin to its present condition and remodeled in conformity with its old character."
Sources
Twitchell, Ralph Emerson (1973) [1909]. The History of the Military Occupation of the Territory of New Mexico from 1846 to 1851. Denver, Colorado: The Smith-Brooks Company Publishers.

Keleher, William A. (1982) [1951]. Turmoil in New Mexico 1846-1868. Santa Fe, New Mexico: Rydal Press. pp. 7–34, notes 110–115, 123–133.

Chávez, Thomas E. (2006). New Mexico Past and Future. Albuquerque, NM: University of New Mexico Press. pp. 113–114.

Roberts, Calvin & Susan (2004). A History of New Mexico (3rd ed.). Albuquerque, NM: University of New Mexico Press. pp. 203–204.

Wroth, William. "Manuel Armino". NM History.Org. NM State Historian.
Chávez, Angélico (1999). Origins of New Mexico Families: A Genealogy of the Spanish Colonial Period. Santa Fe, New Mexico: Museum of New Mexico Press. pp. 318–319.

Simmons, Marc (1973). The Little Lion of the Southwest: a life of Manuel Antonio Chaves. Chicago: The Swallow Press.








Additional Information