Mountain Howitzers
Introduction
Located on the northeast corner of the Old Town Plaza sits two replica 1835 mountain howitzers. These howitzers are replicas of originals used during the Civil War during the Battle of Albuquerque, April 8-9, 1862. These howitzers were used by Confederate forces, who had occupied the town a year earlier. When forced to retreat following the battle, the artillerymen buried these cannons near the church, San Felipe de Neri, before fleeing. They were excavated in 1889. The originals are located in the Albuquerque Museum of Art and History. A sign next to howitzers tell more of their story. It is said that both replicas are placed in the plaza to honor men of both forces that fought in the battle, despite both originals being used by Confederates.
Images
Historic sign for the mountain howitzers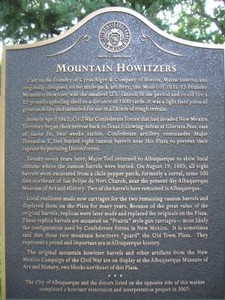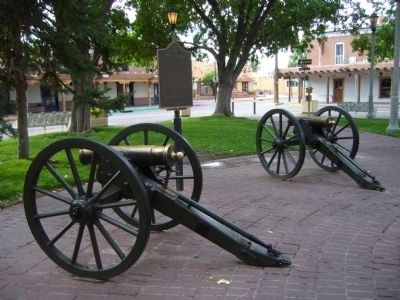 Replica Mountain Howitzers as seen today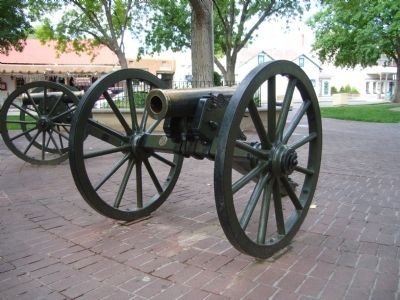 Backstory and Context
History of the Mountain Howitzers as found on sign:
'Cast in the foundry of Cyrus Alger & Company of Boston, Massachusetts, and originally designed to be mule-pack artillery, the Model of 1835 12-Pounder Mountain Howitzer was the smallest U.S. cannon of the period and could fire a 12-pound exploding shell to a distance of 1000 yards. It was a light field piece of great mobility and intended for use in all kinds of rough terrain.
In early April 1862, Civil War Confederate forces that had invaded New Mexico Territory began their retreat back to Texas following defeat at Glorieta Pass, east of Santa Fe, two weeks earlier. Confederate artillery commander Major Trevanion T. Teel buried eight cannon barrels near this Plaza to prevent their capture by pursuing Union Forces.
Twenty-seven years later, Major Teel returned to Albuquerque to how local citizens where the cannon barrels were buried. On August 19, 1889, all eight barrels were excavated from a chili pepper patch, formerly a corral, some 500 feet northeast of San Felipe de Neri Church, near the present day Albuquerque Museum of Art and History. Two of the barrels have remained in Albuquerque.

Local residents made new carriages for the two remaining cannon barrels and displayed them on the Plaza for many years. Because of the great value of the original barrels, replicas were later made and replaced the originals on the Plaza. These replica barrels are mounted on "Prairie" style gun carriages—most likely the configuration used by Confederate forces in New Mexico.. It is sometimes said that these two mountain howitzers "guard" the Old Town Plaza. They represent a proud and important era in Albuquerque history.

The original mountain howitzer barrels and other artifacts from the New Mexico Campaign of the Civil War are on display at the Albuquerque Museum of Art and History, two blocks northeast of the Plaza.

The City of Albuquerque and the donors listed on the opposite side of this marker completed a howitzer restoration and interpretation project in 2007.'

*For more information on the Battle of Albuquerque, see entry for "Battle of Albuquerque." Plaques for both the battle and for Confederates in Albuquerque are both found on the Old Town Plaza gazebo
Additional Information