Rutgers Geology Museum
Introduction
Founded in 1872 by professor and state geologist George H. Cook, the Rutgers Geology Museum features geological, anthropological and paleontological specimens, mostly from New Jersey. It is one of the oldest collegiate geology museums in the country. Highlights include New Jersey minerals—many of which are fluorescent—a nearly complete skeleton of a mastodon, fossilized dinosaur tracks, Native American artifacts, and a Ptolemaic era Egyptian mummy. The museum offers education programs for people of all ages, including an annual open house and field trips. Geology Hall is also listed on the National Register of Historic Places.
Images
Museum interior (image from Rutgers University Geology Museum)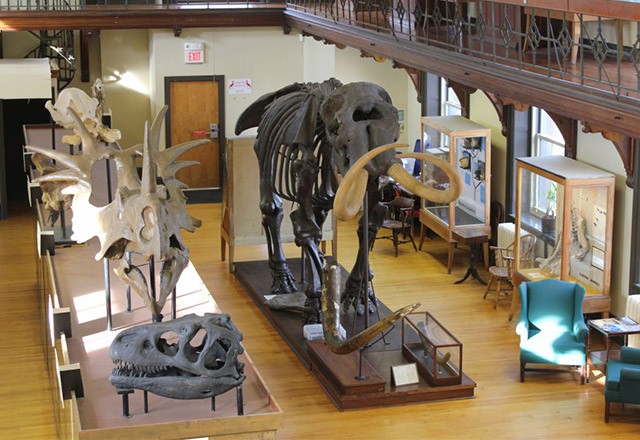 Geology Hall (image from Wikimedia Commons)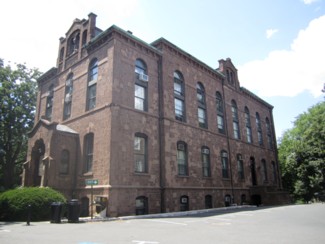 Historic image of the museum (image from Rutgers University Geology Museum)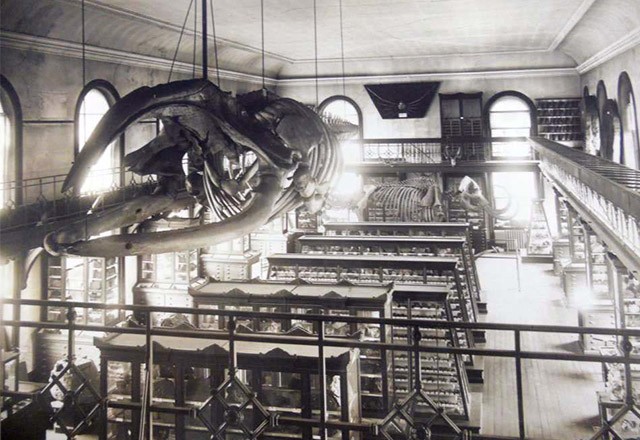 William S. Valiant with the Mannington Mastodon (image from Rutgers University Geology Museum)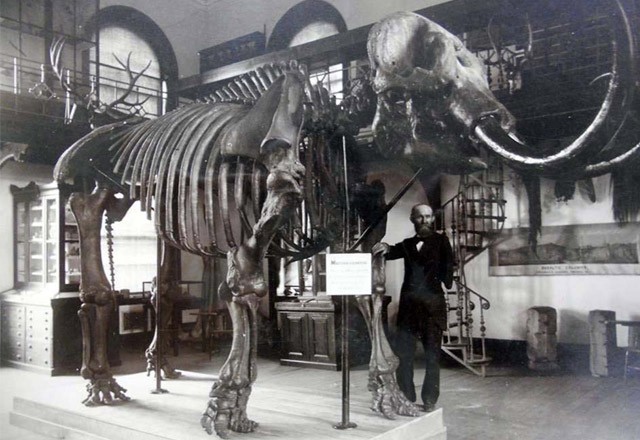 Backstory and Context
The basis for the museum's collection began to grow in 1836 under the direction of New Yorker Lewis C. Beck (1798-1853), who was Rutgers' first geology professor from 1830-1853. Though he was trained as a physician, he was hired as a professor of chemistry and natural science, and was an accomplished botanist, entomologist, chemist, and geologist, and worked as head mineralogist for the New York Geological Survey beginning in 1836. Beck conducted the United States' first chemical examination of food at the request of Congress, and simultaneously taught at Rutgers and at Albany Medical College until his death.. His wide range of interests is reflected in the variety of specimens and cultural artifacts that Beck collected, many of which are native to New Jersey. The first exhibit Beck presented were the fossilized dinosaur tracks he discovered. Beck's collections were stored at Old Queen's and Van Nest Halls, and later became the core collection of Rutgers' Scientific School and the Geology Museum.
New Jersey native Dr. George H. Cook (1818-1889) succeeded Beck at the age of 35, teaching courses in chemistry and natural philosophy at Rutgers University in 1853, and was named State Geologist and Vice President of the university in 1864. Cook's own degree was in Civil Engineering, and he had previously taught mathematics and natural science at Albany Academy. Another man of wide-ranging interests, he helped establish the Rutgers as New Jersey's State College and land-grant school, founded the Rutgers Scientific School, directed the New Jersey Geological Survey (NJGS) from 1864-1889, and improved the efficiency of the state's mining process. Following a major fundraiser for the college in 1870 which led to the construction of Geology Hall, Cook established the museum in 1872 in order to display specimens collected through the NJGS. During the 1880s, Cook also convinced the state and the United States Congress to establish agricultural experimental stations.
Geology Hall itself may have been the first complete work by architect Henry Janeway Hardenbergh, a Rutger's graduate and descendent of the first university president. Aside from geology lecture rooms and the museum, Geology Hall held classrooms for chemistry and natural science, as well as a military science department armory in the basement. It is the oldest continuously used department building in America. Objects collected personally by Cook for the museum include over 4,000 mineral and fossil specimens, a right whale skeleton, and the mastodon still displayed in the museum today (which he purchased from a farmer in 1870).
Mining engineer and metallurgist Albert Huntington Chester (1843-1903) of New York became the museum's first curator in 1892, teaching mineralogy courses from 1893 until his death. He acquired mineral collections from around the world, and was assisted and succeeded by William S. Valiant, also from New York. Valiant is credited with organizing and cataloguing the collections, improving the building, and adding a research laboratory and equipment. He emphasized the educational value of the museum, and was rarely absent during his 25-year career as its curator.
In 1940, the museum acquired its 2,400-specimen collection of rare fluorescent minerals from the English-born George Rowe of the New Jersey Zinc Company, with an additional donation of such minerals in 2002 by Anne and Milton Hershhorn.

Sources
1. Barr, Michael C. "Queen's Campus, Rutgers University." National Park Service, National Register of Historic Places. March 1, 1972. Accessed July 7, 2017. https://npgallery.nps.gov/pdfhost/docs/NRHP/Text/73001113.pdf.
2. Rutgers Geology Museum. Official website. Accessed June 12, 2017.
http://geologymuseum.rutgers.edu/about-us-geology-museum/history.

Additional Information