Zimmerli Art Museum
Introduction
Located on the campus of Rutgers University, the Zimmerli Art Museum is one of the largest and most well-respected university museums in the United States. It features a collection of over 60,000 pieces ranging from ancient times to today. The collection is particularly strong in 19th century French art, Russian and Soviet Nonconformist art (the largest such collection in the world), and American and European works on paper (these include prints, photographs, drawings, and rare books). The museum was founded in 1966 as the Rutgers University Art Gallery in celebration of the school's bicentennial. In 1983 the museum expanded and given its current name thanks to a gift by Ralph and Allan Voorhees in honor of their mother, Jane Zimmerli.
Images
The Zimmerli Art Museum was founded in 1966 as the Rutgers University Art Gallery (image from Wikimedia Commons)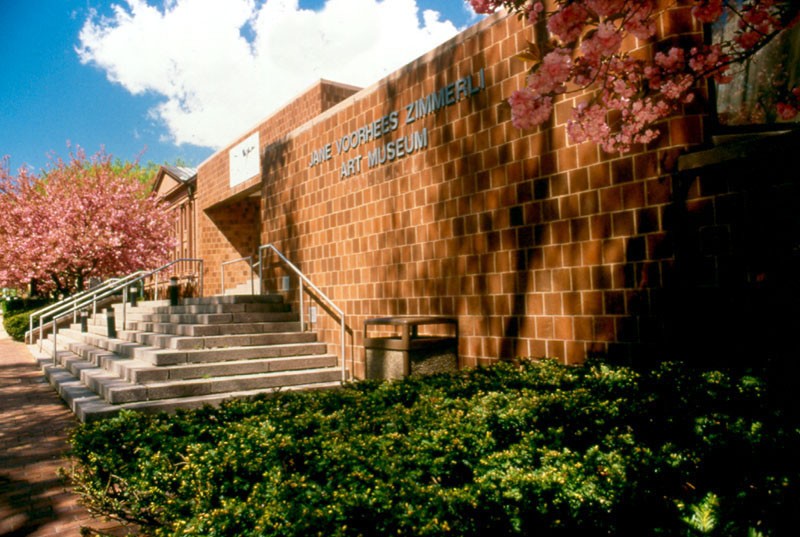 One of the Zimmerli's Moscow Conceptual Art installations (image from Studio International)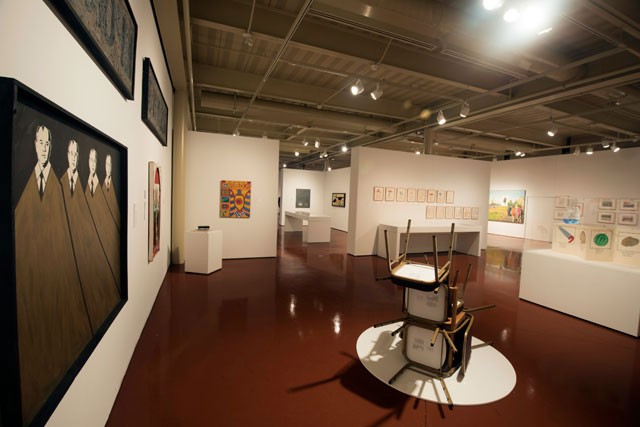 Backstory and Context
After its establishment in 1966, the permanent collection of the Rutgers Art Gallery grew, necessitating a more substantial museum space by 1983. Ralph and Alan Voorhees donated substantially toward the expansion of the addition, named the Zimmerli Art Museum in their mother's honor, which holds 60,000 objects in its collections today.
The Zimmerli presents two large, theme-based annual exhibitions, often highlighting women artists; a series of cameo exhibitions from its permanent collections; and focused presentations such as Japanese art, American children's book illustrations, ancient Greek and Roman art. The museum also hosts drawing classes, lectures, family activities, summer art camps, teacher training programs, and concerts.
The Zimmerli collection of American art ranges from eighteenth-century paintings to contemporary sociopolitical artworks, with a focus on women artists in honor of Rutgers' "pioneering role in women's studies" [1]. Many of the early portraits depict Revolutionary figures, notable residents of New Jersey, and figures associated with Rutgers history. Nineteenth-century landscapes, American surrealism, and modern abstract paintings are also featured, as well as figurative and abstract sculpture, engravings and woodcuts, prints, illustrations, and photographs. American decorative art in the collection includes art nouveau Tiffany lamps and a 1903 Frank Lloyd Wright window.
European art in the Zimmerli collection dates from the Renaissance to the present, and is particularly strong in French nineteenth-century prints and rare books. The Zimmerli holds Italian Renaissance paintings, Dutch and Italian paintings of the seventeenth century, and English and French nineteenth and twentieth-century paintings including Monet's portrait of his father. Also included are Japonisme, created by European artists of the nineteenth century who were inspired by Japanese aesthetics, as well as Japanese woodcuts and Meiji-era photographs. European sculpture includes the only complete set in America of terra cotta busts, Honoré Daumier's Celebrities of the Juste Milieu; as well as a small collection of ancient Greek and Roman art. One of the best collections in the United States of nineteenth-century color lithographic posters can be found at the Zimmerli, along with vintage European photographs, Parisian rare books and journals, and art nouveau decorative objects in glass, ceramic, and metal.
The museum's holdings of 22,000 Russian and Soviet artworks include the largest collection in the world of Soviet nonconformist art. From fourteenth-century Russian Orthodox icons to modern-day works, the collection includes eighteenth and nineteenth-century portraits and lubki (folk prints), expressionist and abstract art, bronze sculpture, stage sets and costumes designs, movie and propaganda posters, nonconformist art ranging from a diverse array of media including video and photography, artist-designed books and book covers, and decorative objects such as hand-painted ceramics.

Sources
1. Zimmerli Art Museum. Official website. Accessed June 12, 2017. http://www.zimmerlimuseum.rutgers.edu.

Additional Information