Camron-Stanford House
Introduction
Built in 1876, the Camron-Stanford House is one of the last remaining Victorian homes. Built by Dr. Samuel Merritt, the home is named for some of its residents: the first family were the Camrons (1876-1882), and later the Stanfords (1882-1905). The last residents were Capt. John T. Wright, Jr. and his family (1903-1907) before they sold the home to the city of Oakland in 1907 for $40,000. It then became the Oakland Public Museum. The Camron-Stanford House was listed on the National Register of Historic Places in 1972, and in 1975 became a designated Oakland Landmark.
Images
A shot of the house from the front today.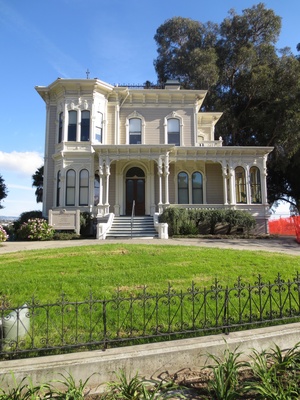 A Black and white shot of the house.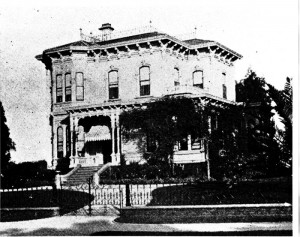 Backstory and Context
The Camrons

The Camron family moved to California in 1849. William Camron had been orphaned as a young boy, much like his future wife, Alice. Once they were married, the couple built a house in Martinez where their daughter Amy was born and Camron became one of five investors in the first bank in Contra Costa County.
After the birth of their second daughter, the Camrons moved to Oakland at the end of 1875.

Camron was appointed to the Oakland City Council in 1877, but personal tragedy struck soon after when their daughter Gracie died only four days after her second birthday. Devastated by this news, Alice and William rented out their home and the entire family embarked on a five-month tour to Europe. The couple divorced in 1891 and Alice and her daughter were reduced to running a boarding house in San Francisco. She never remarried and her daughter remained a spinster until her death in 1963.
The Stanfords

Josiah Stanford, the eldest of six brothers, was born near Albany, New York. He and four of his brother set out to California in 1849 in order to find their fortunes in the gold fields. After arriving in Sacramento they soon realised that their fortunes lay in selling supplies to the increasing numbers of miners to the area. They opened several stores that advertised Stanford Brothers as "fine importers and wholesalers of groceries, provisions wines, liquors, cigars, produce, mining implements and miners supplies".
Josiah Stanford and his second wife, Helen, purchased the Camron-Stanford House in 1882 and the family owned the property for the next 23 years.
Sources
Camron-Stanford House. Local Wiki. Accessed June 11, 2017. https://localwiki.org/oakland/Camron-Stanford_House.

History. CS House. Accessed June 11, 2017. http://www.cshouse.org/history.

Yamamoto, Marta. Oakland: Camron-Stanford House to celebrate new Victorian garden with gala benefit luncheon, tours. Mercury News. May 02, 2013. Accessed June 11, 2017. http://www.mercurynews.com/2013/05/02/oakland-camron-stanford-house-to-celebrate-new-victorian-garden-with-gala-benefit-luncheon-tours-2/.