Little House and Miniature Farm
Introduction
W side of Princess St. between German and High Sts. Built in1929 as a Shepherd College teacher training project largely through the efforts of education professor Florence Shaw. The farm includes a small limestone cottage in full detail, near the street. Behind the house and across Town Run is a miniature dairy barn. At one time the grounds included tiny gardens and fields. Here too, Town Run drops beneath Princess Street and descends towards the Potomac. Much loved by local children, the Little House is often opened for special events.
Images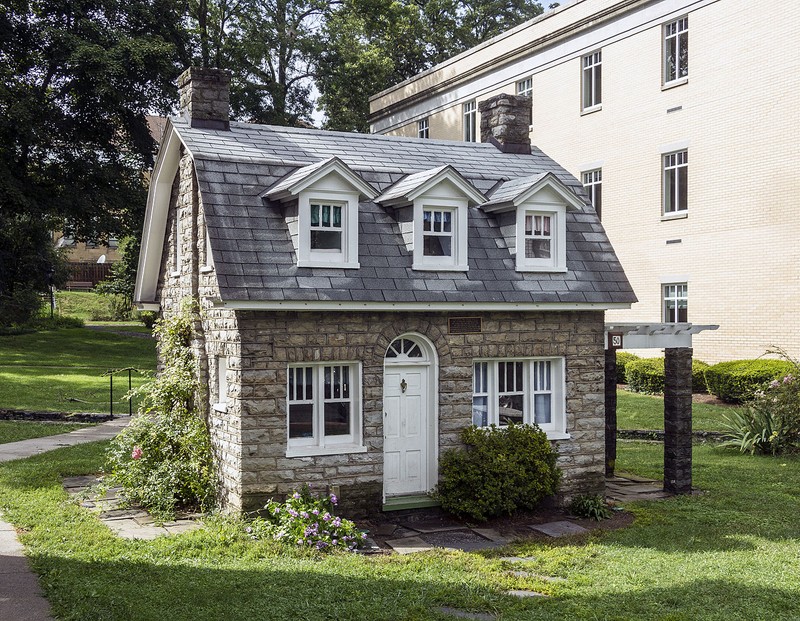 President White at the Corner Stone Ceremony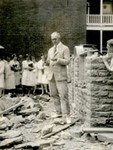 Professor Shaw at Little House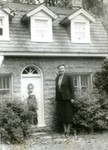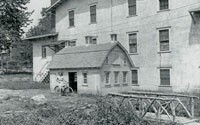 Backstory and Context
The "Little House" started as a summer school project to encourage children to attend summer school at Shepherd College for the student teachers could work with children. The house was built in the summers of 1928 and 1929. Professor Florence Shaw was the supervisor of the observation and teacher training program, her first idea was for the children to build a garden, but she was encouraged to expand the project by President White. The project soon became a one-acre miniature farm modeled on farms in the Shenandoah.[1]
The farm was to consist of a house, barn, and crops that would be made and maintained by the children. Nineteen student teachers and twelve 5th and 6th graders worked on the project, writing letters to get information on past and future farming in the Shenandoah Valley. The students cleared the lot, chose the house, measured the distances for buildings and crops and chose the crops, flowers, and furniture for the house. The children were learning mathematics, English, history, geography, art, home economics, architecture, and agriculture through the project.[2] The students received some help from a stone mason and carpenter to complete the project.
"The "Little House" is a 10-foot-high two-story, Dutch Colonial Revival style house. Constructed of native limestone with a gambrel style rook, the "Little House" has a living room, dining room, kitchen, two bedrooms, and a working fireplace."[3] The corner stone of the house contained a Statement of Purpose for the project and reads,

"In order that children may have a laboratory in which they may learn to work together, faithfully laying the foundation for useful lives, we have built this little house as a unifying center of a miniature farm."[4]
The Little Barn is also a 10-foot-high Dutch Colonial Revival style building with a gambrel roof. When the barn was first constructed it was where the present day White Hall is, but the barn was moved behind the Human Resources building.
The "Little House" project became nationally known when it appeared in "Personoddities," a Universal News Reel that was sent to the USO centers around the world in World War II. It has also been covered in several magazines.[5]
Sources
Little House and Farm. Shepherd University Historic Tour. Accessed June 29, 2017. http://www.shepherd.edu/lib/shwebsite/historic_tour/littlehousebarn_campus.html.


Additional Information