Cesar Chavez Home, San Jose
Introduction
The small, unassuming house on Scharff Avenue was once the home of Cesar Chavez and his family. Chavez lived in San Jose for 14 years and it was here that he began his work as a labor organizer and civil rights leader. The home is a San Jose Historic Landmark.
Images
The former home of Cesar Chavez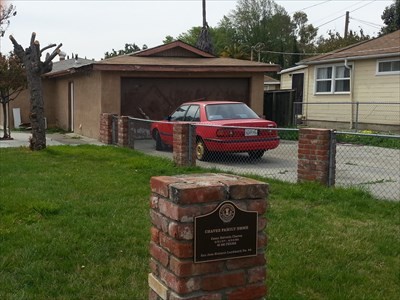 A plaque noting the home's significance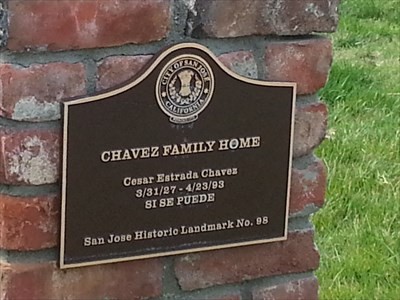 Backstory and Context
Cesar Chavez moved with his parents and siblings to San Jose after the family home in Arizona was lost during the Great Depression. Chavez lived in the home on Scharff Avenue during his childhood and early teen years, when he quit school and became a migrant farm workers.

Chavez was a farm worker until the early 1950s when he became an organizer for the Community Service Organization, partly as a result of his association with Father Donald McDonnell from Our Lady of Guadalupe Mission Chapel. The chapel was added to the National Register of Historic Places in 2016.

Elsewhere in San Jose, Chavez is honored with the Plaza de Cesar Chavez and the Cesar Chavez Elementary School. His former residence on Scharff Avenue is a San Jose Historic Landmark.
Sources
"The Story of Cesar Chavez". United Farm Workers. Retrieved 8 June 2017.
Additional Information