Sacrifice Rock, Plymouth
Introduction
One of the lesser known sites of historical interest in Plymouth is called Sacrifice Rock. The rock is maintained by the Plymouth Antiquarian Society. It is believed to be the site where the Wampanoag tribes left gifts of sticks and small rocks in hopes that the spirits would grant them safe passage to their destination.
Images
Sacrifice Rock (Courtesy of the Plymouth Antiquarian Society)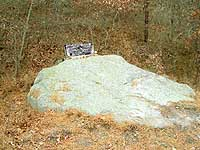 Plaque on top of Sacrifice Rock (Courtesy of The Pinehills)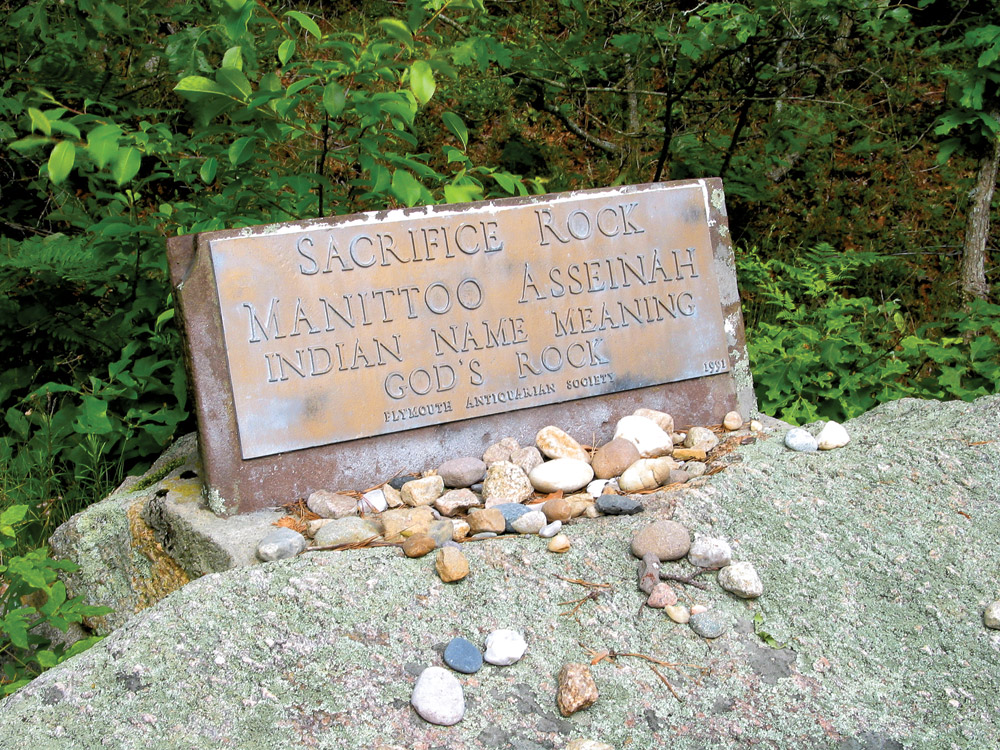 Backstory and Context
The Plymouth Antiquarian Society's oldest historic site is a large rock located off Old Sandwich Road. It existed centuries before the Pilgrims first landed on Plymouth's shores in 1620. The rock held a very significant role in Wampanoag spiritual culture. It may be named for the traditional sacrifices that occurred on the site, specifically where the Wampanoags left small tokens, such as sticks and stones, with hopes that the gesture would grant them a safe journey between Plymouth and nearby areas. Today, visitors to the rock follow the same tradition. Small offerings of pine boughs, pine cones, and small pebbles are constantly left by travelers.
The site where the rock is situated was gifted to the Plymouth Antiquarian Society in 1928. There are no fortifications built around the rock to protect it. It is left on the side of a partially paved road for visitors to find. There is a small plaque marking its significance, which simply reads: "Sacrifice Rock / Manittoo Asseinah / Indian Name Meaning / God's Rock."
A new subdivision is being developed around the rock. There are plans, however, to keep the rock safe and improve its habitat along the street. The developer's plan includes a buffer zone around the rock with a walking trail and a small park.
Sources
ThrowBackThursday: Sacrifice Rock. Plymouth 400. September 25, 2014. Accessed June 13, 2017. http://www.plymouth400inc.org/blog/throwbackthursday-sacrifice-rock. Submitted by p400_user_1

Farrar, John McPhee. Irons in the Fire. Straus and Giroux, 2011. Accessed via Google Books at https://books.google.com/books?id=ie5Vb0nsWvYC&pg=PT174&lpg=PT174&dq=sacrifice+rock+plymouth&source=...

Belmont, Jayne. Plymouth Rocks. Wandering through life ... I'll get somewhere eventually. September 23, 2012. Accessed June 13, 2017. http://jaynebelmont.blogspot.com/2012/09/plymouth-rocks.html.

Living History. The Pinehills. Accessed June 13, 2017. http://www.pinehills.com/our-story.

Historic Sites: Three Historic Houses, Three Centuries of American History. Plymouth Antiquarian Society. Accessed June 13, 2017. http://www.plymouthantiquariansociety.org/historic.htm#spooner.


Additional Information