Albuquerque LDS Temple
Introduction
The LDS temple located here in Albuquerque, is New Mexico's first and, so far, only LDS temple. This 73rd operating temple was completed and dedicated on March 5, 2000. Then LDS Prophet/President, Gordon B. Hinckley, upon dedication of the temple, announced that he had hopes that this temple would inspire both LDS and non-LDS to do their family genealogy as well as helping those of American Indians who live around the area.
Images
Albuquerque Temple from behind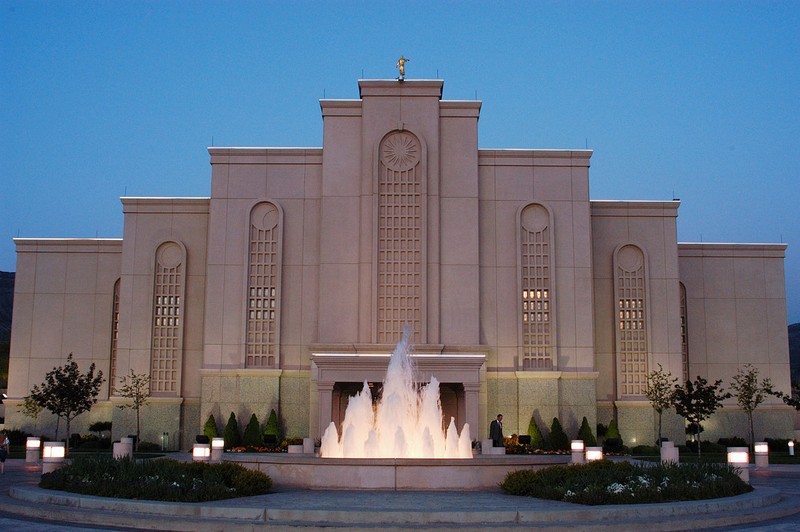 Welcome sign and front view of temple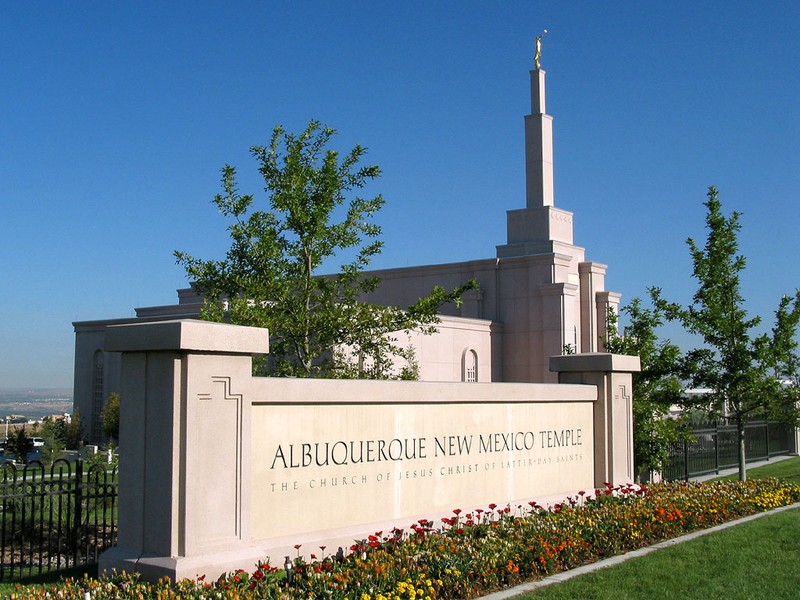 Celestial Room within in the temple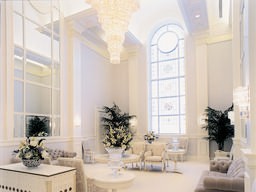 Backstory and Context


Ground for the Albuquerque New Mexico Temple was broken in a special ceremony on June 20, 1998. About 6,500 members attended the event which had a 600-voice youth choir provide the music.
During a 10-day open house prior to dedication about 70,000 people toured the Albuquerque New Mexico Temple. LDS Church president Gordon B. Hinckley dedicated the temple on March 5, 2000. During the dedicatory prayer, Hinckley expressed his hope that the new temple would turn the hearts of the LDS members to their families.
The Albuquerque New Mexico Temple serves about 55,000 members in New Mexico and bordering parts of Arizona and Colorado. It sits on 8.5 acres in northeast Albuquerque. The exterior is finished with desert rose pre-cast concrete and trimmed with Texas pearl granite. A gold statue of the angel Moroni tops the single-spire. The temple has a total of 34,245 square feet, two ordinance rooms, and three sealing rooms.
Sources
Traver, Holly (June 27, 1998), "Ground broken for temple in New Mexico" Church News

"Angel Moroni statues placed atop 2 temples", Church News, June 26, 1999

"Open house, dedication set for Albuquerque temple", Church News, Feb 5, 2000

"'A place that ties families together'", Church News, March 11, 2000

Weaver, Sarah Jane (March 11, 2000), "Temple melding members of three cultures", Church News

Additional Information