Kuwabara Hospital
Introduction
Now called the Issei Memorial Building, the former Kuwabara Hospital building is one of the most historic landmarks in Japantown. A Japanese organization built it in 1910 to attract a Japanese doctor to work in what was then a predominantly Japanese neighborhood. It was named after Dr. Taisuka Kuwabara, the first physician to work at the hospital. Today, the building is home to the three organizations: San Jose Taiko (taiko is the Japanese word for a type of drum that is often used by an ensemble), the Contemporary Asian Theater Scene, and the the San Jose Chapter of the Japanese American Citizens League. Just outside the museum is the California Japantown Landmark, which features a nine-foot tall sculpture depicting scenes of the Japanese community from the past and wooden benches (for more information, please look at the Clio entry with the title: Japantown Historic Marker San Jose).
Images
The former Kuwabara Hospital was built in 1910.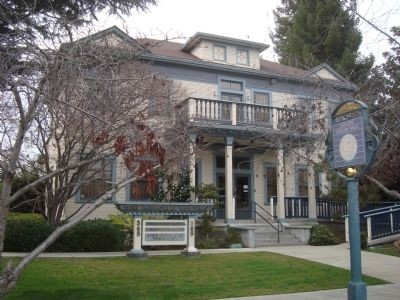 Backstory and Context
Dr. Kuwabara attempted to work in San Jose alongside American doctors but cultural, religious and language barriers made this difficult. Additionally, Japanese doctors were not granted licenses and therefore had to be supervised, which is what occurred at the Kuwabara hospital. An American doctor had to supervise everything Dr. Kuwabara did and subsequent Japanese doctors who worked at the hospital. This finally ended in 1934 when the first Japanese doctor was given a license and was allowed to work in the San Jose Hospital. As a result, the Kuwabara Hospital started to decline.

After the hospital closed, building has served many purposes. It was a boarding school, a refuge for internees (those forced to live in Japanese internment camps during WWII), and home to several local Japanese community organizations, which continue to call the building home today.
Sources
"History." Japan Town Community Congress. Accessed June 6, 2017. https://japantowncommunitycongress.wordpress.com/history/history.
"Issei Memorial Building." California Japan Towns. Accessed June 6, 2017. http://www.californiajapantowns.org/sj/issei-memorial-building.html.
Photo:
Barry Swackhamer, via The Historical Marker Database
Additional Information