Almaden Quicksilver County Park
Introduction
Located on the southern outskirts of San Jose is Almaden Quicksilver County Park, which was once the location of the largest mercury mine in North America. The large park is over 4,000 acres in size and runs along the Capitancillos Ridge. From 1847-1976 the valuable but dangerous—as it was eventually discovered—metal was extracted from the various mines here. Mercury was valued for its ability to extract gold from ore and as such was an important part of the state's Gold Rush period of the mid 19th century. In all, over 83 million pounds of mercury were extracted here, amounting to a monetary value of around $70 million dollars.
Images
One of the markers at the El Senador Mine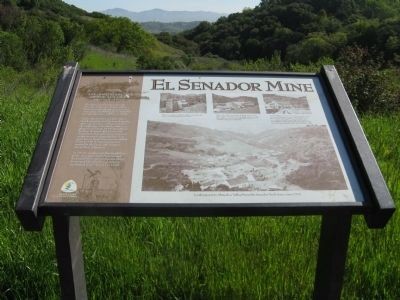 Remnants of the El Senador Mine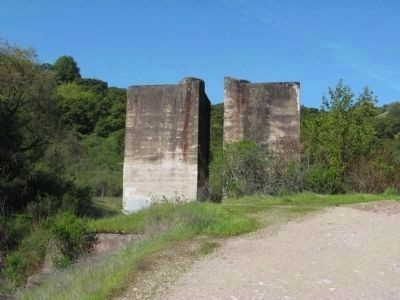 Backstory and Context
Though the Almaden Quicksilver Park is undeveloped today, it was once the site of heavy mining activities, and was a home to hundreds of miners and their families. The mines were in operation from 1847 to 1976, but were especially important during the Gold Rush. Mercury (or quicksilver) was used to extract gold from ore, which made the Almaden mines a crucial part of the process. Almaden was, for a time, the world's second-largest producer of mercury.

By the 1860s, there were 700 buildings and nearly 2,000 miners living in the area. In the 1970s, however, when mercury was discovered to be an environmental toxin, the operations closed and all mining in the area ceased. Since that time, most of the tunnels have been sealed, although some of the structures left from the time when the park was a mining camp are still standing. There is also a memorial to firefighters from the Civilian Conservation Corps who were stationed in the park at one time.

Today, visitors can hike, ride horses, and mountain bike on the park's 37 miles of trails, some of which are part of a historic trail which features historical markers describing the mining history as well as remnants of mining structures. The first portion of the the San Cristobal Mine is open, allowing visitors to walk inside a little bit until the spot where it is walled off (all of the mines are sealed). Guided tours are available upon request.

Just to the east of the park is the Almaden Quicksilver Mining Museum, with a number of exhibits about the life of miners and the mining process.
Sources
"El Senador Mine." The Historical Marker Database. Accessed June 5, 2017. https://www.hmdb.org/marker.asp?marker=41456.

Homepage. Santa Clara County Parks. Accessed June 5, 2017. https://www.sccgov.org/sites/parks/parkfinder/Pages/AlmadenPark.aspx.

Todd, Gail. "Take a trip back in time at Almaden Quicksilver County Park." SF Gate. September 24, 2014. http://www.sfgate.com/outdoors/urbanoutings/article/Take-a-trip-back-in-time-at-Almaden-Quicksilver-...

Photos: Syd Whittle, via the Historical Marker Database
Additional Information