Ladd Carriage House, Portland
Introduction
The Ladd Carriage house, built in 1883, served William Ladd, the city's 4th mayor who also became the wealthiest businessman in the Pacific Northwest by the 1880s. Ladd donated much of his wealth to charity. After becoming paralyzed in 1876, his horses and carriages was of the utmost importance to Ladd and his attention to their well-being are evident in the design of this carriage house. The building is all that remains from the expansive Ladd estate, which included a large (now demolished) mansion across the street from the carriage house.
Images
Constructed in the 1880s, this carriage house is all that remains from the Ladd estate.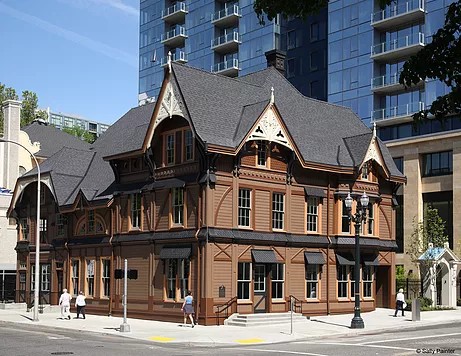 Backstory and Context
The carriage house stands as a reminder of Portland's early history as it transitioned from frontier town to a modern city, of which the carriage house's owner, William Ladd, served as its 5th (and youngest) mayor from 1854-55, and for another six months as temporary mayor in 1859. Like numerous people who made their fortunes in Portland in the late 19th century, the story begins with a journey from the east to San Francisco as part of the gold rush. Once that dream of finding gold failed to materialize, the Portland potential lured Ladd, as it did many, to Portland.

Ladd arrived in Portland with little money, but upon selling a box of liquor -- for $2,000 -- he had previously procured, he was able to open a general store, serving a need for a town boasting of less than 850 people and had only been given its charter from the territorial board three months prior -- but town growth seemed imminent. Those meager beginnings led to numerous other business ventures that speak volumes about Portland's early history; he invested in such industries as lumber, railroads, mills, steamships, and telegraphs.

Ladd was the founder of the Oregon Iron Works and Oregon Central Railroad Company. He was also the leading spirit and investor behind the Oregon Telegraph Company and the Portland Hotel. Ladd also donated much of his money, considering charity as a tithing and following the Old Testament ideals of tithing one-tenth of his income. He also served as a leader towards founding the Library Association of Portland, including donating the land necessary to build it. Moreover, he helped the town develop the River View Cemetery, as well as the Portland Water Commission, which helped residents enjoy clean water, a necessity for any growing town in the 19th century (and today, obviously).

By the late 1870s, after serving as the town's mayor and amassing a fortune, he succumb to paralysis. Already a lover of animals, he suddenly found himself in need of them to move around town. With his great wealth, he commissioned builders to construct a lavish carriage house that became an integral part of his large estate

Ladd's death in 1893 led to a slow erosion of his estate as parts of it were sold off, demolished, and/or repurposed. While his mansion was mansion was demolished, the carriage house was left vacant and fell into disrepair. It was scheduled for demolition in 2007 to make room for the construction of new apartment buildings. Preservationists sprung into action to save the historic building, renovating the structure and seeking a plan for its future usefulness.

Sources
"A Bit of History." Raven and Rose. Accessed June 04, 2017. https://www.ravenandrosepdx.com/history.

Jewel Lansing. "William S. Ladd (1826-1893)." The Oregon Encyclopedia. Accessed June 04, 2017.
https://oregonencyclopedia.org/articles/ladd_william_s_1826_1893_/#.WTRASBgrJD8

Oregon State Historic Preservation Office. "Nomination Form: Statement of Significance." National Register of HIstoric Places. Published January, 07, 2010..


Additional Information