Japanese Friendship Garden
Introduction
Sat in Kelley Park, the Japanese Friendship Garden is a walled area that was dedicated in October 1965. It is patterned after Japan's famous Korakuen Garden in Okayama (one of San Jose's sister cities) and spans six acres. Its three main ponds were stocked with koi sent from Okayama in 1966. The ponds are at different elevations and are inter-connected by streams, creating a beautiful tiered ecosystem.
Images
A pagoda in the Japanese Gardens.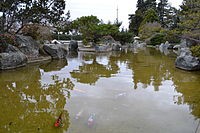 The entranceway to the Gardens.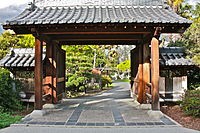 Korakuen Gardens in Japan.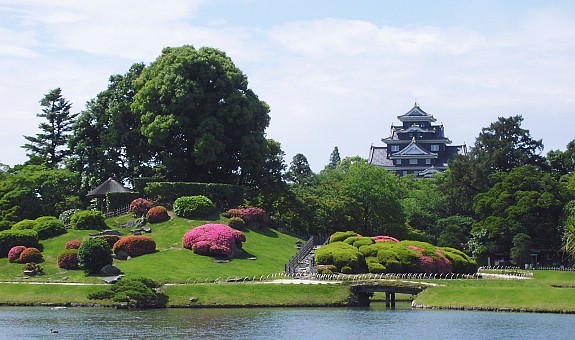 Backstory and Context
Built in the 1960s, the Japanese Friendship Garden sits on 12 acres of painstakingly landscaped land, modeled after Korakuen Garden in Okayama, Japan, San Jose's sister city. The gardens offer many traditional Japanese sights including lanterns, bridges, waterfalls, flora, trees, and a large pool that is home to koi, turtles, ducks, and herons. The shapes of the two ponds resemble the Japanese characters for kokoro, a word designating heart and soul.

The gardens have been described by San Jose Parks Foundation Executive Director James Reber as "one of the most peaceful, beautiful places in San Jose." The reason for the "friendship" part of the Gardens' name is to celebrate the friendship between San Jose and its sister city, Yokohama. It is a symbol of the coming together of cultures and is a way of giving the inhabitants of San Jose a glimpse into Japanese culture.
The Gardens offer a wide variety of educational programs, exhibits, and festivals as well as accredited horticultural classes to enhance and deepen visitor appreciation for Japanese culture. The first phase of the Japanese Friendship Garden was opened in 1991 and the second phase in 1999, designed by renowned landscape architect Takeo Uesugi. The third phase, completed in 2015, added and additional 9 acres and included a 200 cherry tree grove, large azalea and camellia garden, a water feature reminiscent of the San Diego watershed, and the state of the art Inamori Pavilion.
Today, the Japanese Friendship Garden is visited annually by close to 100,000 people from all over the United States and around the world. The Parks Foundation has set up a fund at
www.sanjoseparks.org
, and any donations are always appreciated.
Sources
Pizarro: Flood-damaged Japanese Friendship Garden needs help. Mercury News. Accessed June 04, 2017. http://www.mercurynews.com/2017/03/16/pizarro-flood-damaged-japanese-friendship-garden-needs-help/.

Mission. NIWA. Accessed June 04, 2017. http://www.niwa.org/.


Additional Information