Zachary Taylor National Cemetery
Introduction
The United States Congress established the Zachary Taylor National Cemetery in 1928. The land had previously been a family graveyard. Surrounding land was donated by the State of Kentucky, increasing the cemetery's size from half an acre to sixteen acres. Inside, a fifty-foot-tall monument commemorates Zachary "Old Rough and Ready" Taylor. After earning a reputation during his military career, Taylor became president in 1849. However, he died in office just over a year later.
Images
A mausoleum houses the remains of Zachary Taylor and his wife at Zachary Taylor National Cemetery.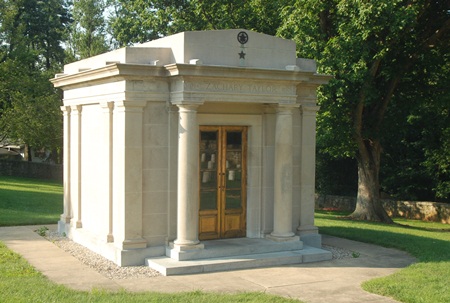 Backstory and Context
Zachary Taylor was born on November 24, 1784. His family was wealthy, owning 10,000 acres of land and a large number of slaves. After his childhood in Kentucky, Taylor joined the military and was granted a command at Fort Pickering (modern-day Memphis, Tennessee) in 1808. Two years later, Taylor married Margaret Mackall Smith of Maryland. The two moved from post to post as their family grew. The couple and their four daughters finally made a home in Louisiana.
By the time the Mexican-American War broke out, Taylor had already made a name for himself as an "Indian fighter" and accomplished soldier. After being promoted to brigadier general, Taylor began preparing troops for a possible conflict with Mexico. Once the United States annexed Texas, Taylor and his men traveled to the Rio Grande River in the mid-1840s. Mexico believed that the area was still under their control, leading to a skirmish in April 1846. Congress then approved President Polk's declaration of war. Taylor's popularity boomed as he led soldiers through a series of successful battles. He returned home in November 1847 and began planning his presidential campaign.
"Old Rough and Ready," as Taylor was known, gained support from both the North and the South during his campaign. The South believed that, as a slave-owner, Taylor would protect states' rights and the expansion of slavery. The North saw Taylor as a national hero and hoped that he would unite the country. Taylor won the Whig Party's nomination in 1848. He also won the presidential election, but his term was cut short after he died from an illness on July 9, 1850. Taylor was interred in Washington and later moved to a family graveyard.
The family graveyard eventually became the Zachary Taylor National Cemetery in 1928. Before that, the State of Kentucky commissioned a fifty-foot-tall granite monument with a life-size figure of Taylor in his memory in 1883. In 1930, a memorial sundial was added. Sixteen years later, the U.S. government built a limestone building in the neoclassical style in the cemetery. The cemetery was added to the National Register of Historic Places in 1983.
Sources
Zachary Taylor National Cemetery. U.S. Department of Veteran Affairs. Accessed April 25, 2019. https://www.cem.va.gov/cems/nchp/zacharytaylor.asp. Information and photo source.

Talbott, Tim. Zachary Taylor National Cemetery. Kentucky History. Accessed April 25, 2019. https://explorekyhistory.ky.gov/items/show/212?tour=11&index=12.


Additional Information