The Speed Art Museum
Introduction
Founded in 1927, The Speed Art Museum is Kentucky's oldest and largest art museum. The museum was originally founded as the J.B. Speed Memorial Museum by Hattie Bishop Speed in honor of her husband, James Breckinridge. Collections at the museum showcase a wide variety of art from around the world, including ancient, classical, and modern art. The facility was completely renovated and redesigned in the mid-2010s at an estimated cost of $60 million. The museum reopened in 2016 to offer more exhibition spaces as well as a new education center and other facilities.
Images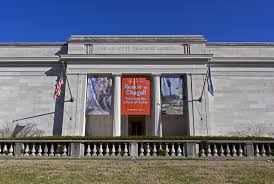 Backstory and Context
The Speed's original facility was designed by Arthur Loomis, a local architect, and officially opened on January 15, 1927 with a ceremony attended by over two thousand patrons and one hundred artists. It was designed and built in the Neo Classical architectural style. Hattie Bishop Speed founded the museum in order to honor her husband James Speed, who was a prominent businessman and art collector. The museum was incorporated as a privately endowed institution in 1933 with Hattie Speed serving as the first president and director. She even set up the endowment to fund the entire museum and encouraged not paying any admission to enter. A board of governors was also established and the Speed Art Museum received its first major donation in 1934--a collection of North American Indian artifacts gifted by Dr. Frederick Weygold. In 1946, Paul Harris would become the first professional director to work at the museum. The first of three additions to the facility was completed in 1954 following donations made by Dr. Preston Pope Satterwhite.
The museum's collections were expanded in the 1960s under the leadership of Addison Franklin Page. In 1977, the museum welcomed the arrival of one of its most significant pieces, Rembrandt's Portrait of a Woman, to celebrate the 50th anniversary of the museum's grand opening. A new wing was added in 1983 and the museum was renovated in 1996 after James Breckinridge's granddaughter gifted $50 million to the Speed family's endowment. The facility reopened in 1997 after all the renovations were finished.
In 2012, a major transition came upon the museum as $60 million was poured into another renovation project. New additions would be added to the museum in these renovations. Additions like larger space for more exhibits, a family education center, a cinema with 150 seats in total, and a multipurpose pavilion. The museum would be closed down for three years to allow construction to happen. The Speed Art Museum would be finished with construction allowing the staff to reopen it in 2016.
Sources
History of the Speed Art Museum, Speed Art Museum official website. Accessed March 27th 2021. https://www.speedmuseum.org/about/history/.
"Promise, Witness, Remembrance," Speed Art Museum official website. Accessed June 9th 2021. https://www.promisewitnessremembrance.org/
Additional Information