Alum Rock Park
Introduction
Established in 1872, Alum Rock Park is the oldest municipal park in in California. Its lush, rugged, canyon terrain, numerous springs, and abundant wildlife has attracted people for thousands of years. Today, the 720 acre-park features hiking, horseback riding, and biking trails. There is also the Youth Science Institute, which was established in 1954. The park got its name after a rock formation that was incorrectly thought to contain alum. Despite this mistake, the park retained its name.
Images
This historical marker describes the history of the park.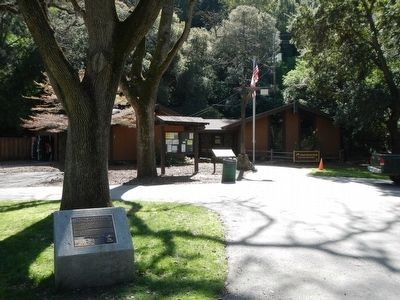 Backstory and Context
Located just east of San Jose, Alum Rock Park is the state's oldest municipal park. It was founded in 1872, and the park was a popular resort, with an indoor swimming pool, bath houses, an aviary, a restaurant, and a zoo. During its heyday, it was a nationally-known place for entertainment and relaxation.

Until the 1920s, the park was accessible by train, and many visitors chose to reach the park that way. Once train service to the park was discontinued, visitors still flocked to the park. In the 1930s, the Civilian Conservation Corps and the Works Progress Administration, both New Deal agencies, did extensive work on the park, improving trails and picnic areas, and building a lodge. From the 1930s until the 1960s, the number of visitors to the park increased dramatically, and it was frequently overcrowded, making it difficult for park officials to maintain facilities.

In recent years, the park has been allowed to return to a more natural, rugged state. It consists of more than 700 acres and includes a number of trails, picnic facilities, and horseback riding.
Sources
"Historic Alum Rock Park." The Historical Marker Database. Accessed June 2, 2017. https://www.hmdb.org/marker.asp?marker=92718.

Thompson, Judy. "Alum Rock Park History." New Neighborhood History. Accessed June 2, 2017. http://www.nnvesj.org/Archives/ARPHistory.htm.Alum Rock Park--San Jose CA. The Living New Deal. Accessed July 16, 2017. https://livingnewdeal.org/projects/alum-rock-park-san-jose-ca/.


Additional Information