First Miami Presbyterian Church
Introduction
The First Presbyterian Church of Miami was the first formal, organized congregation in Miami, established in April 1896. It was well known for being the home church of three-time presidential candidate William Jennings Bryan, whose Sunday School lessons drew thousands of attendants. The current Mediterranean Revival-style church building was constructed in 1949, and was later designated a city historical site. Today the church remains in operation and manages several ministries, outreach programs, and a private school.
Images
The current church building, from 1949, is a city historical site and listed on the National Register of Historic Places. Image obtained from University of South Florida.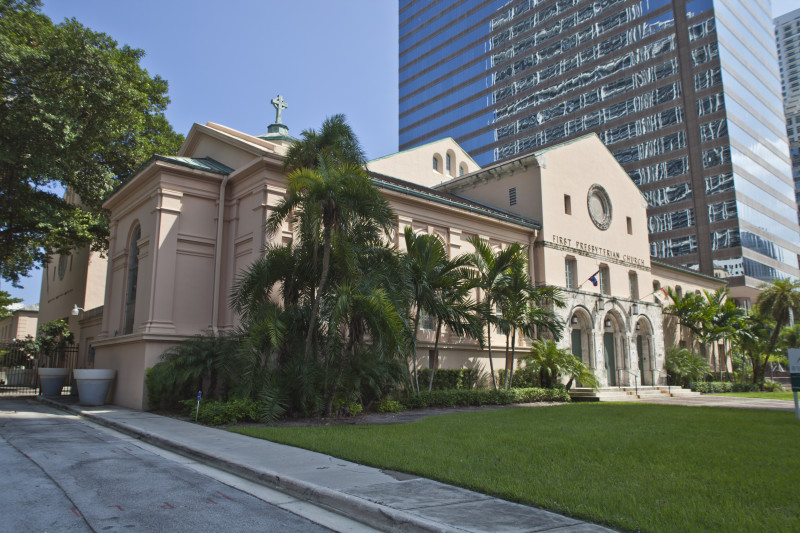 The original church building was constructed in 1900 and stood at East Flagler Street. Image obtained from Florida Memory.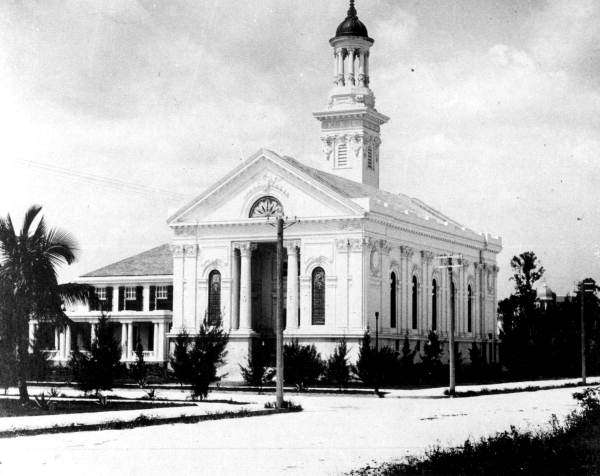 William Jennings Bryan's Sunday School lessons drew so many attendees that they had to be moved to Royal Palm Park. Image obtained from the Brickell Homeowners Association website.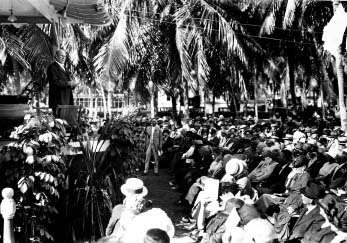 Backstory and Context
The First Miami Presbyterian Church traces its origins back to 1895, when the General Assembly of the Presbyterian Church in the United States dispatched Reverend Henry Keigwin to southern Florida to attempt to establish a church in the Biscayne Bay area. A new city was being built there by railroad tycoon Henry Flagler, and various different denominations were operating in the community; however, no official congregations had been created yet. The First Presbyterian Church of Miami was formed on April 1, 1896, two months before the City of Miami was incorporated. Dr. William Wallace was chosen to be the first minister. The Presbyterian Church originally held services in a tent and later a pavilion at the present-day corner of North Miami Avenue and SE 2nd Street. They shared both of these shelters with other local groups such as the Baptists and Congregationalists.
In 1898, Henry Flagler, who was a Presbyterian, donated a plot of land at Flagler Street and Southeast Third Avenue for the Presbyterians to build a church. He also provided the funds to construct the church and even his own architects from New York. Construction was completed in early 1900. It was at this church building that the First Miami Presbyterians would gain recognition due to their most famous member, William Jennings Bryan. Nicknamed "The Great Commoner," Bryan was a nationally-known politician, serving as a Congressman, Secretary of State, and running unsuccessfully for president three times. In 1913, he moved from his native Nebraska to Miami, Florida, where he joined the First Miami Presbyterian Church. Bryan taught a Sunday school class which was very popular thanks to his oratorical skills. Eventually he had to move his class to Royal Palm Park, where thousands of people attended his lessons. In 1921, he was elected to a lifetime term as a church Elder. Bryan passed away in 1925.
By the late 1940s, the growing size of the congregation led to the need to build a new church. In 1949 the present-day church was constructed on a three-acre plot of land on Brickell Avenue. Designed by architect Lester Geisler, the church building is noteworthy for its Mediterranean Revival-style. The style reached the peak of its popularity in south Florida in the 1920s and 1930s, so the use of it much later in 1949 is unusual. One section of the church, the Flagler Memorial Chapel, was built using portions of the original 1900 building. In 1989 the building was added to the National Register of Historic Places as part of the Downtown Miami Multiple Resource Area, and in 2003 it was designated a city historic site.
Over the years, the First Miami Presbyterian Church has had many organizations, including a Ladies Aid Society, young adult groups, and even a concert series. First Miami also established several other area churches, including El Cordero Presbyterian Church, Pinecrest Presbyterian Church, The First Spanish Presbyterian Church, Central Presbyterian Church, and Coral Gables First Presbyterian Church. In 2013, the church opened the Key Point Academy private school. First Miami continues to hold regular services and is engaged in many outreach and volunteer programs.
Sources
DeCarlo, Donna. "Cornerstones of Faith: First Presbyterian Church of Miami." BHA News XIII, no. 2. Summer 2003. Accessed May 31, 2017. www.brickellhomeowners.com/brickells-cornerstones-of-faith-first-presbyterian-church-of-miami/.
"Miami Historic Designation Report: First Presbyterian Church." 2003. Accessed May 31, 2017. www.historicpreservationmiami.com/pdfs/first%20presbyterian.pdf.
Rivera, Leslie. "Cornerstones of Faith: First Presbyterian Church of Miami…before there was a City." BHA Homeowners Association. March 21, 2015. Accessed May 31, 2017. www.brickellhomeowners.com/cornerstones-faith-first-presbyterian-church-miami-before-city/.
Picture 1: http://etc.usf.edu/clippix/pix/the-first-presbyterian-church-in-miami-florida_medium.jpg
Picture 2: https://www.floridamemory.com/fpc/reference/rc19042.jpg
Picture 3: http://www.brickellhomeowners.com/wp-content/uploads/2013/05/williamjenningbryan.jpg
Additional Information