Journalist Dorothy Fuldheim Historical Marker
Introduction
Situated just outside the entrance to the WEWS TV news station is this historical marker describing the life and legacy of Dorothy Fuldheim (1893-1989), the country's first female TV news anchor. Fuldheim grew up in Milwaukee where she first worked as a school teacher before moving to Cleveland in the 1920s. Here, she began her broadcast career on radio, where she hosted a biography series on WTAM and later the ABC Radio network. She was eventually offered a journalism job with The Cleveland Press (which is no longer published) and was sent abroad to conduct interviews. Her interviewees included Adolf Hitler, Benito Mussolini, Albert Einstein, and the Duke of Windsor. In 1947, she was given the job of anchor for WEWS and eventually had her own interview show. In all, she conducted 15,000 interviews during her career. She retired in 1984 at 91 years old after suffering a stroke.
Images
The marker commemorating Fuldheim's life. Photo: Christopher Busta-Peck, via The Historical Marker Database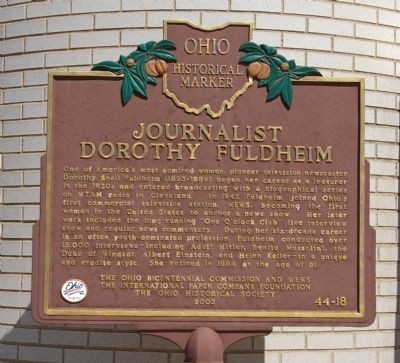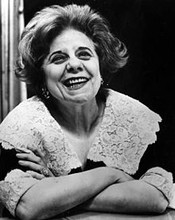 Sources
Associated Press. "Dorothy Fuldheim, 96, A News Commentator." New York Times. November 4, 1989. http://www.nytimes.com/1989/11/04/obituaries/dorothy-fuldheim-96-a-news-commentator.html.

"Journalist Dorothy Fuldheim." The Historical Marker Database. Accessed May 30, 2017. https://www.hmdb.org/marker.asp?marker=17897.

Additional Information