James Mercer Langston Hughes Historical Marker
Introduction
This marker commemorates the life of Langston Hughes, one of the 20th century's greatest African American literary figures. Hughes was born in 1902 in Joplin, Missouri and moved to Cleveland in 1916, where he attended Central High School. It was there that his love for writing and the arts was kindled. He wrote stories for the school's publication, The Monthly, and after graduating, attended Columbia University for a year. He left college to travel and work in Europe before settling in Harlem, New York City in 1922. A year earlier, he published his first poem "The Negro Speaks of Rivers" in the NAACP publication, The Crisis. In the coming decades, he continued to write prolifically, including books (for adults and children), poetry, plays, essays, works on Black history, and even a film script. He was also an activist and lecturer. He died in Harlem in 1967.
Images
The marker is located outside of the Langston Hughes branch of the city's public library system.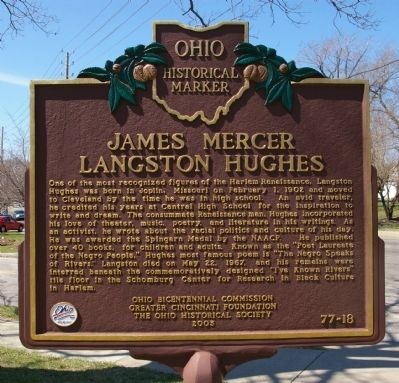 Sources
"Hughes, (James) Langston." The Historical Marker Database. Accessed May 30, 2017. https://case.edu/ech/articles/h/hughes-james-langston.

Photos: Christopher Busta-Peck, via the Historical Marker DatabaseLangston Hughes Biography. Kansas Heritage. Accessed May 30, 2017. http://www.kansasheritage.org/crossingboundaries/page6e1.html.

Additional Information