Pulitzer Arts Foundation (formerly Pulitzer Foundation for the Arts)
Introduction
In 1993, St. Louis-based philanthropist Emily Rauh Pulitzer, following the death of her husband Joseph Pulitzer, Jr., decided to create a foundation devoted to contemporary art. The website described the purpose of the institution as "a sanctuary for the ever-evolving experience of art and a laboratory for unprecedented collaborations and endeavors." She approached the world-renowned, self-taught architect Tadao Ando, with whom she had previously worked on an aborted project, to design the building, which became his second American project and first U.S. public building. Ando used construction techniques derived from Japanese practices, but seldom if ever employed in America. The result, completed in 2001, was a building with the "smooth as silk" concrete finish characteristic of the architect, as well as exemplifying his equally typical practice of using light as a design element. The result has been called by one art critic, "the greatest work of architecture to go up in St. Louis since 1891, when Louis Sullivan's Wainwright Building... opened," and "one of the finest small museums of our time." In 2015, Ando created an extension to the original building, which was also acclaimed.
Images
Pulitzer Arts Foundation (exterior)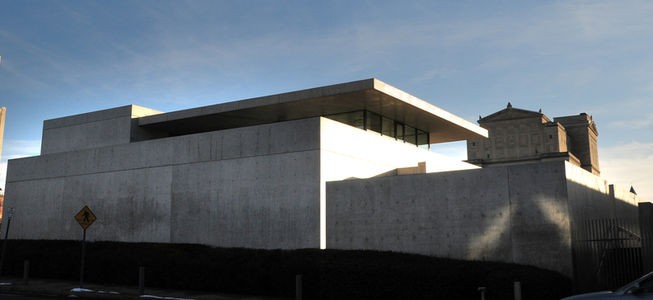 Pulitzer building (with reflecting pool)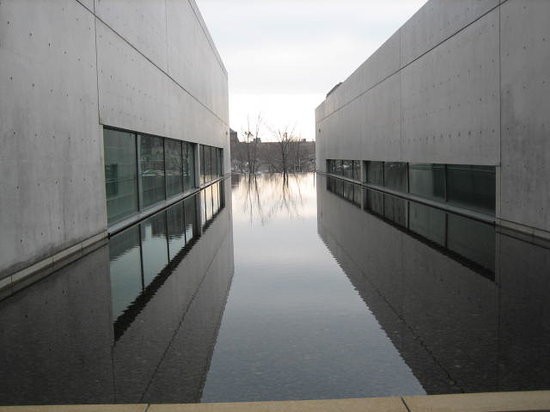 Pulitzer building (another view)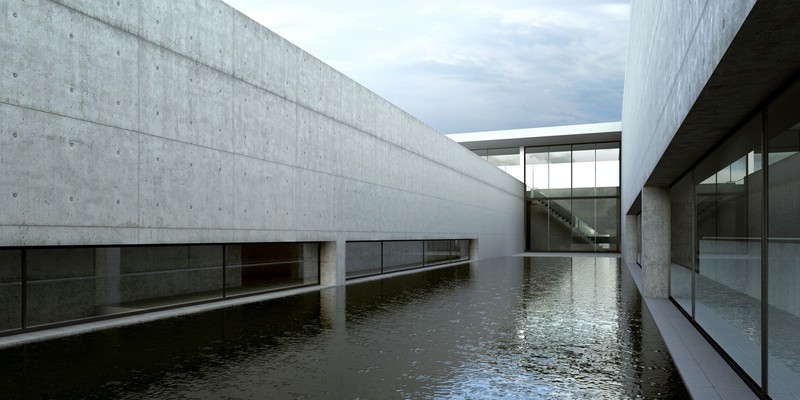 "Blue Black" by Ellsworth Kelly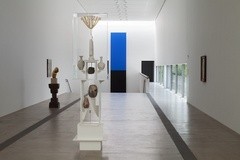 Backstory and Context
In the early 1990s, Emily Rauh Pulitzer and her husband Joseph Pulitzer, Jr., owner of the St. Louis Post Dispatch newspaper, approached the famous architect Tadao Ando with the idea of adapting an old industrial building in St. Louis to permanently house the couple's collection of contemporary art. Shortly thereafter, that plan fell through when Mr. Pulitzer became seriously ill. However, Emily Pulitzer revisited the idea after her husband's death, deciding to create a new arts foundation and a totally new building to contain it. Ando accepted the commission, though he had never designed a public building in America before.

Ando, born in Osaka in 1941, had become a world-famous architect in previous decades, despite having no formal training in architecture. In his teens, he learned the craft of working in wood from a carpenter. Admittedly a poor student, Ando, after a brief period as a boxer, began to teach himself architecture by visiting and examining famous buildings in Japan, Europe and the U.S., and reading books about famous architects like Le Corbusier and tracing their designs, as well as briefly apprenticing himself to designers and city planners. When he visited a building by Le Corbusier in Marseilles, Ando was impressed by his dynamic handling of concrete. Although Ando has used wood in a few rare projects, he has mostly employed concrete, using a technique that creates a "smooth as silk" finish to the substance. He is considered a "minimalist," strongly influenced by Japanese tradition, which values simplicity and elegance. Ando also likes to use light to "sculpt" his structures. "In all my works, light is an important controlling factor," he has said. In 1995, Ando was awarded the distinguished Pritzker Prize, given to outstanding architects throughout the world.

Ando has said that his initial collaborative dialogues held with his client - the chair of the foundation, Mrs. Pulitzer - and with the artists Ellsworth Kelly and Richard Serra, who created the large artworks (titled "Blue Black" and "Joe," respectively) that are installed in the building, were "extremely significant" and enhanced "the quality of the architecture." The 27,000-square-foot, two-story structure, which was completed in 2001, includes, according to the website of Christner, the Architect of Record for the project, "exhibit space, library and offices brought together with a formal spatial vocabulary, meticulously detailed and finished concrete surfaces, and dramatic use of daylight." The original building is U-shaped, containing a reflecting pool between its parallel wings. The wing that is two stories high contains the hundred-and-seventy-feet-long main gallery; the other wing is of one story and includes a glass-enclosed pavilion, a terrace and a garden. At the bottom of the U is an enclosed entry court, an interior vestibule, and a stairway leading up to a mezzanine, which in turn opens to the roof garden.

An architecture critic has written of the Pulitzer that Ando "has created an extraordinary series of rooms, and you want to move through them slowly, since they are powerful spaces in themselves and, at the same time, remarkable exercises in the subtle relationships between art and architecture." Although this critic wrote that "Ando's architecture is not easy or superficially entertaining," his style is "deeply sensual," and that the building inspires "a literally physical mixture of joy and awe." As for the art exhibited within the building, the Foundation writes on its website that it "presents a wide range of exhibitions, including those of Old Masters, Buddhist art, important modern and contemporary artists such as Dan Flavin and Ann Hamilton, and group exhibitions that explore a diverse array of themes and ideas."

In 2014, the Foundation decided to expand the original space by renovating the lower level into additional gallery space, and Ando was again hired for this 5,000 square-foot project. Two galleries and a monumental concrete stair were included in this renovation. As in the already existing parts of the building, light and spatial dynamics played an important role in the design of the new galleries, and the opening of the lower level improved visitors' ability to move naturally through the building. From August 2013 through January 2015, the Pulitzer organized a series of tours, in collaboration with Washington University in St. Louis, to demonstrate to the public all aspects of the four-year process by which the original building was constructed.


Sources
"History of Pulitzer Arts Foundation." Pulitzer Arts Foundation website. Access date: 5/28/17. http://pulitzerarts.org/mission.
"Pulitzer Arts Foundation: St. Louis Landmark Unifies Art and Architecture." Christner website. Access date: 5/28/17. https://christnerinc.com/work/services/pulitzer-arts-foundation.
"Pulitzer Arts Foundation: Building - Architecture Tour." Pulitzer Arts Foundation website. Access date: 5/28/17. http://pulitzerarts.org/about/building.
Zhang, George Huaiyu. "Tadao Ando." The Architects Newspaper. Publication date: 6/17/15. Access date: 5/28/17. https://archpaper.com/2015/06/tadao-ando-3.
"Famous Minimalist Architect – Tadao Ando." Minimalisti. Access date: 5/28/17. https://www.minimalisti.com/minimalist-architect-tadao-ando.html.
"Architect Tadao Ando." Great Buildings. Access date: 5/28/17. http://www.greatbuildings.com/architects/Tadao_Ando.html.
"The Pritzker Architecture Prize." Access date: 5/28/17. http://www.pritzkerprize.com/1995/bio.
Goldberger, Paul. "Art Houses." The New Yorker. Publication date: 11/5/01. Access date: 5/28/17. http://www.newyorker.com/magazine/2001/11/05/art-houses.
"Tadao Ando to expand Pulitzer building." Worldarchitecturenews.com. Publication date: 5/23/14. Access date: 5/28/17. http://www.worldarchitecturenews.com/project/2014/24336/tadao-ando/pulitzer-arts-foundation-in-st-lo....
"Building Pulitzer Architecture Tours." Pulitzer Arts Foundation website. Access date: 6/6/17. http://pulitzerarts.org/series/building-pulitzer-architecture-tours.
Additional Information